Snow and Ice Databook 2014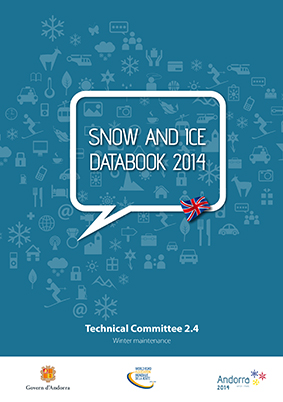 This fourth edition of the Snow and Ice Databook was produced to accompany the 14th International Winter Road Congress held in Andorra. It compiles in a homogeneous and consistent format descriptions of practices for managing winter road conditions from nearly 30 countries. The four country-specific headings consist of: description based on geography, demographics and road network characteristics; potential climatological and meteorological phenomena; road management methods; and recent developments and current research addressing winter service conditions.
Winter conditions are always difficult to forecast. Climate change has influenced winter weather variations and each year brings its share of surprises. Winter service has become a difficult activity to plan for and schedule, especially in these times of continuously increasing demands and despite ever-tighter budget constraints. Experience from elsewhere is thus most instructive.
The Snow and Ice Databook is perfectly suited to handle such pressure. The objective here is to upload contributions benefiting both user safety, across all travel modes (automobile, walking, bicycle, public transit trips), and economic imperatives often relying on just-in-time management and dependent on the road network. The ultimate challenge is to accommodate environmental concerns and, more broadly, implement sustainable development approaches.
Information sheet
Date: 2015
Author(s): Comité technique 2.4 - Viabilité hivernale Technical Committee 2.4 - Winter Service
Domain(s): Winter Service
PIARC Ref.: Snow and Ice DataBook - SIDB 2014EN
ISBN: 978-2-84060-355-9
Number of pages: 223