Human factors in road design. Review of design standards in nine countries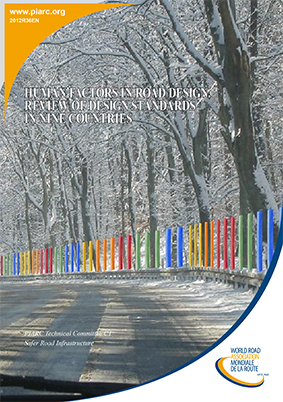 This report reviews how human factors are explicitly or implicitly considered in the current road design standards of the following countries : Australia, Canada, China, Czech Republic, France, Hungary, Japan, the Netherlands and Portugal.
The report focuses on design features as they relate to the spatial perception of the driver. It covers in particular :
the need for the driver to anticipate any critical point;
management of the field of view to ensure appropriate speed and lane tracking;
the human factors demands to pre-program the driver's behaviour.
For the different criteria and factors, the report identifies best practices and provides recommandations for the missing links such as : the optical density of the field of view ; transition zones ; fixation objects in the lateral road side environment ; depth of the field of view.
Information sheet
Date : 2012
Author(s) : Comité technique AIPCR C.1 - Des infrastructures routières plus sûres / PIARC Technical Committee C.1 - Safer road infrastructure
Domain(s) : Road Safety
PIARC Ref. : 2012R36EN
ISBN : 978-2-84060-306-1
Number of pages : 212