Communication with road users in winter conditions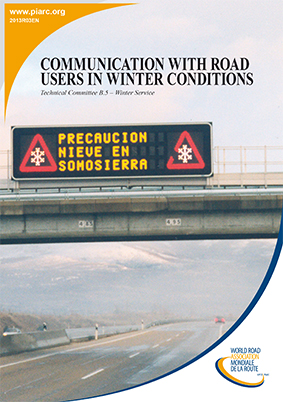 This report is based on the answers to a survey from 25 countries or state agencies. It addresses the following sub-topics:
informing road users about changeable road/traffic conditions;

usage of on-road installed devices for informing road users bout changeable road/traffic conditions;

individual inquiries of road users in order to get information about changeable road/traffic conditions;

feedback from road users concerning road/traffic conditions;

communication with road users during extraordinary winter road conditions;

road/traffic information aimed for winter pedestrians, cyclists, motorcyclists and motorists of all-terrain vehicles;

education of drivers and travelers to be active in inquiring of driving condition information;

interpretation of road/traffic information for foreigners.
In addition, appendices provide information on websites, public telephone numbers and E-mail addresses dedicated to road/traffic information in the different countries and states which responded to the survey.
Information sheet
Date: 2013
Author(s): Comité technique AIPCR B.5 Viabilité hivernale / PIARC Technical Report B.5 Winter maintenance
Domain(s): Winter Service
Type: 2013R03EN
PIARC Ref.: 2013R03EN
ISBN: 978-2-84060-313-9
Number of pages: 50