Intermodal freight terminals - Challenges and good practices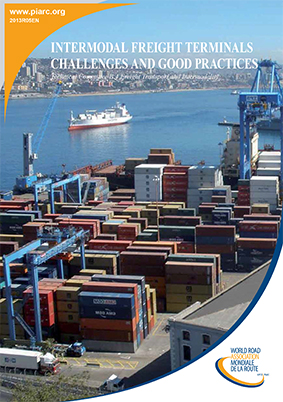 This report has been prepared by the Technical Committee B.4 Freight Transport and Intermodality of the World Road Association (PIARC).
The report is organized in four main chapters:
Chapter 1 identifies key stakeholders and describes the different types and functions of terminals which interact in the transport of container cargo (seaport or maritime terminal, inland container terminals, barge and train terminals).
Chapter 2 highlights the problems and challenges related to intermodal terminals due to infrastructural, operational and organizational problems.
Chapter 3 provides an extensive review and assessment of current/good practices in the following areas of intermodal terminals: terminal design, operations, management, terminal road and rail access, land use and environmental issues, as well as institutional and financial issues.
Chapter 4 is dedicated toconclusions andrecommendations on the above-mentioned areas.
Recommendations include limiting the high investment costs by using a modular terminal design.
The report is complemented with a 3-page glossary together with a 65-page appendix consisting of the survey on problems and challenges at freight terminals and 20 good practice case studies.
Information sheet
Date: 2013
Author(s): Comité technique B.4 Transport de marchandises et intermodalité / Technical Committee B.4 Freight transport and intermodality
Domain(s): Freight Transport
Type: 2013R05EN - Technical report
PIARC Ref.: 2013R05EN
ISBN: 978-2-84060-315-3
Number of pages: 218