Innovative approaches towards the use of locally available natural marginal materials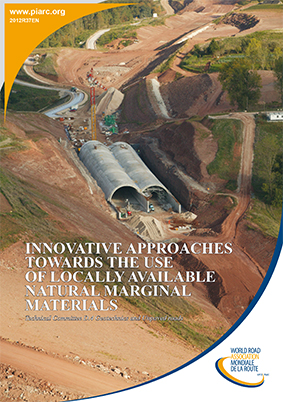 The utilization of materials locally available on the site of a road project is a major concern in the context of sustainable development and perfectly meets the socioeconomic and environmental criteria involved in it.
The report is based on the answers received from twenty-two countries. Five different families of locally available marginal natural materials have been identified. Information on placing and processing is given for each country. A comparison is also made of classifications and specifications and their application in the case of marginal materials.
The report also reviews the innovative approaches in : preliminary studies, risk management, methods and techniques for use, innovation in products.
Information sheet
Date: 2013
Author(s): Comité technique D.4 Géotechnique et routes non revêtues / Technical Committee D.4 Geotechnics and unpaved roads
Domain(s): Environment / Road Earthworks
Type: 2012R37EN
PIARC Ref.: 2012R37EN
ISBN: 978-2-84060-307-8
Number of pages: 176