Road bridges improvement of durability in design and construction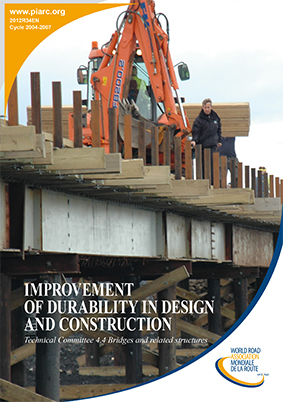 This 62-page report compiled by Technical Committee 4.4 has sought to pool the experience of the members ofthe committee in respect of current design and construction philosophy in identifying and responding to perceived durability problems of engineering structures.
A questionnaire was formulated by this group for circulation to PIARC members. It was agreed to limit the scope of the enquiries to steel and concrete bridges of medium span (less than 150 meters individual span), as this represented the bulk of the bridge stock. The questionnaire sought the considered view of experienced practitioners.
The report attempts to identify best practice in this area, stimulate further development and provide guidance to avoiding some of the pitfalls that have been experienced.
Appendices make up 38 of the 62 pages.
Information sheet
Date: 2013
Author(s): Comité technique 4.4 Ponts et ouvrages d'art / Technical Committee 4.4 Bridges and related structures
Domain(s): Road Bridges
Type: 2012R34EN
PIARC Ref.: 2012R34EN
ISBN: 978-2-84060-302-3
Number of pages: 62