Prioritisation of bridge rehabilitation works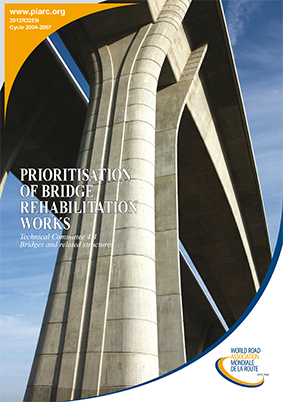 The challenge in bridge management is to ensure that all bridges in a road network remain fit for their intended purpose over their design life and beyond at minimum life cycle cost. The bridge rehabilitation prioritisation process is part of the entire road infrastructure management task and bridge asset managers must seek a balance between the proposed performance targets and reasonable funding needs. This exercise must be conducted in the context of acceptable professional practice and community expectation of appropriate access standards and service function.
This report investigates the current practises in network level prioritisation of bridge maintenance interventions. Nineteen countries provided answers to different survey questionnaires designed to elicit details of the Bridge Management Systems and the bridge rehabilitation processes. The report presents the answers together with guidelines for prioritisation of maintenance interventions.
Information sheet
Date: 2012
Author(s): Comité technique 4.4 Ponts et ouvrages d'art / Technical Committee 4.4 Bridges and related structures
Domain(s): Road Assets Management / Road Bridges
Type: 2012R32EN - Technical report
PIARC Ref.: 2012R32EN
ISBN: 978-2-84060-300-9
Number of pages: 58