Increase the durability and lifetime of existing bridges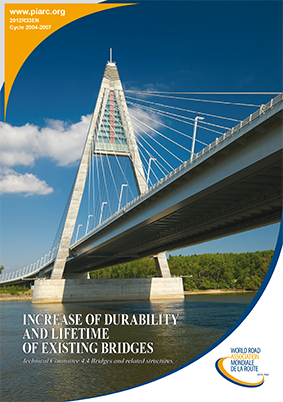 The scope of this study is to present a library of examples on methods of minimizing the maintenance or repair cost or the traffic restrictions through increasing the durability and lifetime of existing bridges or structure components. 49 examples from Europe, Japan, New Zealand, North America and South Africa are presented. They cover all essential construction components (bridge decks, slabs, supports, etc.). The different causes of damage include insufficient design, detailing, construction, maintenance, and impact from traffic, fire, etc.
Examples compare a traditional repair method with a new, alternative repair method for solving the same problem. The examples are complemented by recommendation for future design in order to avoid the detected damage.
Information sheet
Date: 2012
Author(s): Comité technique 4.4 Ponts et ouvrages d'art / Technical Committee 4.4 Bridges and related structures
Domain(s): Road Bridges
Type: 2012R33EN - Technical report
PIARC Ref.: 2012R33EN
ISBN: 978-2-84060-301-6
Number of pages: 56