Improvements in safe working on roads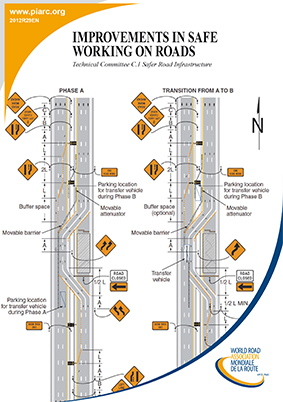 The focus of this guide is on safety of both workers and road users in construction zones. For the safe, efficient and effective management of work zones, it is proposed that a 4 C's principle be adopted. Work zones should be designed, operated and maintained such that the works are conspicuous, clear, consistent and credible.
The report addresses in its different chapters:
The roles and responsibilities in the work zones;
Planning and design of work zones;
Safe and efficient operations of work zones;
Personnel guidance in work zones;
Typical work zones layout;
Checklists for work zones safety.
Information sheet
Date : 2012
Author(s) : Comité technique AIPCR C.1 - Des infrastructures routières plus sûres / PIARC Technical Committee C.1 - Safer road infrastructure
Domain(s) : Road Safety
PIARC Ref. : 2012R29EN
ISBN : 978-2-84060-263-6
Number of pages : 99