Strategies for road networks operation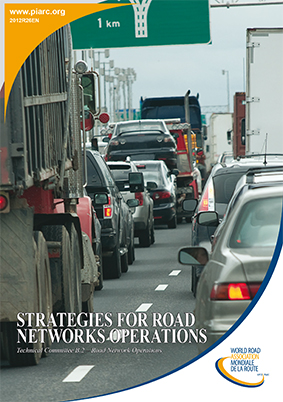 This report studies, in its first part, the strategies of management of congested areas and road corridors. Examples are presented of measures to reduce
non-recurring congestion (traffic incidents, planned special events, work zones, real time traveler information);
recurring congestion (including: pricing, traffic signal timing, capacity expansion, maximizing existing capacity, encouraging alternative modes, regulatory measures, etc.).
From an international survey, the report presents examples of success stories and unsuccessful attempts and identifies key success factors.
In a second part, the report presents the principal results of the joint PIARC/FISITA task force on co-operative vehicle highway systems.
Information sheet
Date: 2012
Author(s): Comité technique B.2 Exploitation des réseaux routiers / Technical Committee B.2 Road Network Operations
Domain(s): Road Network Operations
Type: 2012R26EN - Technical report
PIARC Ref.: 2012R26EN
ISBN: 978-2-84060-295-4
Number of pages: 90