Institutional integrity - Toolkit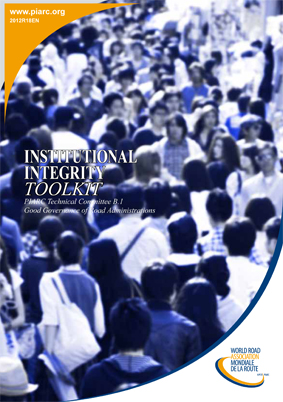 The increasing demands of Civil Society regarding accountability and transparency lead to promote institutional integrity and to act decisively against corruption. This counts the more for the road sector which has proven to be particularly vulnerable to corruption.
In this context, Technical Committee B.1 Good Governance of Road Administrations of the World Road Association was tasked:
• to review recent changes in successful governance structures;
• to examine different plans, policies and initiatives for successfully ensuring institutional integrity in the road sector.
The results are presented in the report Best practices of Good Gouvernance -Institutional integrity (reference 2012R17EN). The present document complements this report with the presentation of the "Toolkit" which is a set of measures to prevent, detect and punish corrupt behaviour and enforce decisions within an organization.
Information sheet
Date: 2012
Author(s): Comité technique AIPCR B.1 Bonne gouvernance des administrations routières / PIARC Technical Committee B.1 Good governance of road administrations
Domain(s): Road Policies / Governance of Road Authorities
Type: 2012R18EN - Technical report
PIARC Ref.: 2012R18EN
ISBN: 978-2-84060-277-6
Number of pages: 20