Road tunnels: vehicle emissions and air demand for ventilation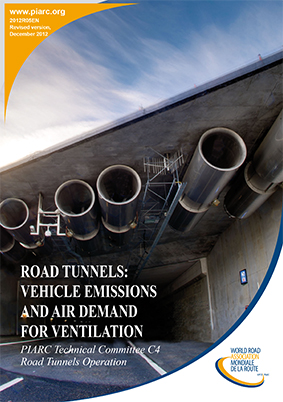 This report presents the data necessary for the design of the ventilation system for road tunnels in normal operation. It aims at defining the minimum quantity of fresh-air that is required to ensure adequate in-tunnel air quality and visibility thresholds. This report is a reference document for the design of tunnels and for monitoring the operation conditions.
The report provides the values of admissible concentrations of toxic gases and particulate matter. It then presents the emission factors of the main pollutants and particulate matter as a function of the type of vehicle and of traffic conditions.
The report takes into account the change in legislation which enforces more stringent emissions factors and also changes in vehicle technology. In appendix, emission factors specific to some countries are presented together with the emission factors for the Euro standards.
With this up-date of the data, this report completely replaces the previous one, published under the same title in 2004 under the reference 05.14.B
Information sheet
Date: 2012
Author(s): Comité technique AIPCR C.4 Exploitation des tunnels routiers / PIARC Technical Committee C.4 Road Tunnel Operation
Domain(s): Environment / Road Tunnel Operations
Type: Technical report 2012R05EN
PIARC Ref.: 2012R05EN
ISBN: 978-2-84060-269-5
Number of pages: 87