Worldwide situation of road pricing and assessment of its impacts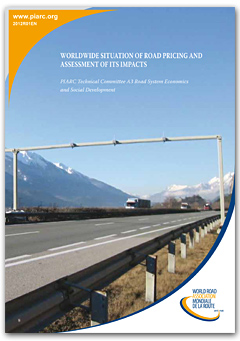 The report of Technical Committee "Road System Economics and Social Development" presents the state of road pricing schemes implemented or studied in the world, the corresponding developments and an assessment of their impacts.
The panorama of pricing schemes covers the following twenty-two countries: Austria, Canada, Czech Republic, Denmark, USA, Spain, Finland, France, Germany, Hungary, Italy, Japan, Mexico, Morocco, Netherlands, New Zealand, Norway, United Kingdom, Singapore, Slovak Republic, Sweden, Switzerland, and those of the Economic and of the West African Economic and Monetary Union.
The impact of different pricing methods on: characteristics of mobility, the environment, road safety, the economy, social equity and acceptability are examined from fifteen case studies presented in appendix. The examples covered range from urban congestion schemes to the impact of the internalisation of externalities accompanying the revision of the Eurovignette Directive, through the experiences of pricing related to the distance traveled.
Information sheet
Date: 2012
Author(s): Comité technique A.3 Aspects économiques des réseaux routiers et développement social / Technical Committee A.3 Road system Economics and Social Development
Domain(s): Road Policies / Financing of Road System / General
Type: Technical report 2012R01EN
PIARC Ref.: 2012R01EN
ISBN: 2-84060-242-3
Number of pages: 246