World Road Congresses
Since the first World Road Congress held in Paris in 1908, PIARC organises every four years in a member country a World Road Congress with the aim to share techniques and experiences worldwide in the field of road infrastructures and road transport.
Abou Dhabi Congress
6-10 October 2019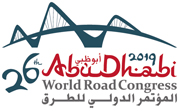 The XXVIth World Road Congress will be held in Abu Dhabi (United Arab Emirates) from 6 to 10 October 2019. It will host about 50 sessions, a major exhibition, technical visits and a social program.
For more information, Click here!
Seoul Congress
2-6 November 2015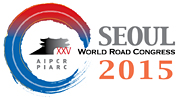 This XXVth World Road Congress was organized in close cooperation between the World Road Association, responsible for the content and development of the programme, the Ministry of Land, Infrastructure and Transport of the Republic of Korea, the Korea Expressway Corporation, the Korea Road & Transportation Association and the PIARC Korean National Committee.
Pages with orange tabs are reserved for members of the Association.
You wish to become a member of the Association
Join the World Road Association and share your experiences and expertise with your peers around the world.
Members also benefit from a range of quality services and resources, reduced prices, etc.