The World Road Congress will start in… two weeks!
Published on 18 September 2023.
Get ready for the Ministerial Day of the 2nd of October 2023.
In the morning of the 2nd of October, the main representatives of both Czech and Slovak Republics and of the PIARC will officially open the Congress. After the Opening Session, you can all attend the Ministerial Sessions where the ministers will discuss two main topics: Road Safety and Cycling. The program will continue with the Ministerial Walk and the Grand Opening of the Exhibition! We all hope to meet you also during the Welcome Reception that will be held in the exhibition area from 17:00.
You haven't booked your spot at the Congress yet? Don't wait any longer!
>> Register here <<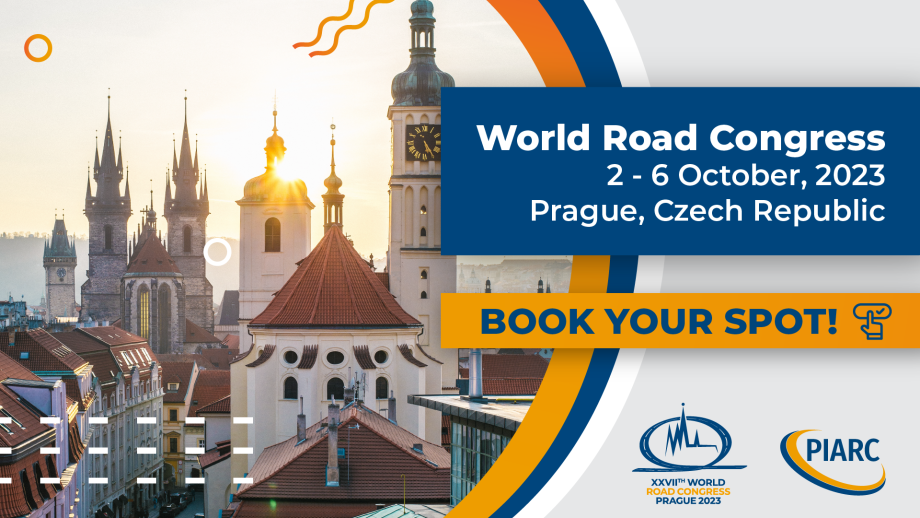 PRACTICAL INFORMATION
Dates: from 2 to 6 October 2023
Venue: Prague Congress Center (PCC), Czech Republic
Languages: Simultaneous translation in English, French, Spanish and Czech
Program of the day (Monday, 2 October)
8:00 – 8:30 Doorstep
8:30 – 10:00 Opening ceremony
10:00 – 10:30 Coffee break followed by Press Conference of the Czech Minister of Transport
10:30 – 12:30 Ministerial Panel on Road Safety
12:30 – 14:00 Lunch Break
14:15 – 16:15 Ministerial Panel on Cycling
16:30 – 17:00 Cultural program
17:00 Opening ceremony of the exhibition area
17:00 – 19:00 Official Reception
Opening Session
The Opening Session will be officially launched by the Chairman of the Senate of the Parliament of the Czech Republic, Miloš Vystrčil, and the Czech Minister of Transport, Martin Kupka.
Ministerial Round Table I on Road Safety
The first Ministerial Panel from 10:30 to 12:30 on the topic Road Safety will focus on the issue of young drivers, and more specifically on how to reduce the number of fatalities and serious injuries.
Ministerial Round Table II on Cycling
The second Ministerial Panel from 14:15 to 16:15 on the topic Cycling will discuss the increasing number of e-bikes, shared bicycles, it's sustainability and affordability and developing cycling infrastructure.
See you in Prague! ● À bientôt à Prague ! ● ¡Nos vemos en Praga! ● Na viděnou v Praze!
Further information