Indonesia will host a seminar on climate change, be one of us!
24 October 2022
See you in Yogyakarta in November 2022 under the theme "Climate change, resilience and disaster management for roads".
On 22 and 23 November 2022, a PIARC International Seminar is organised in Yogyakarta (Indonesia) in order to broach the following theme "Climate change, resilience and disaster management for roads". This seminar will be followed by a Technical Visit on 24 November.
>> Register here <<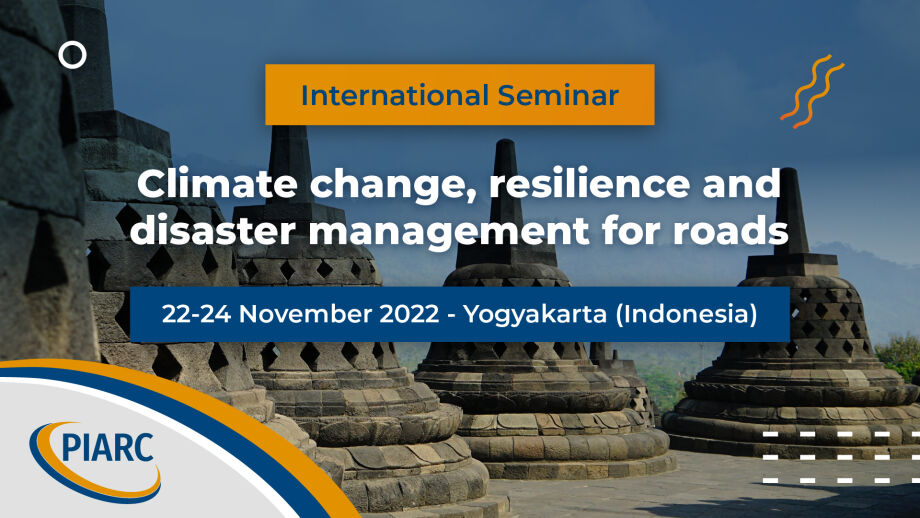 Climate change and other hazards have a wide range of implications on the performance of road infrastructure, and can cause disruptions to road network operations. The purpose of this seminar, organise by Technical Committees 1.4 "Climate Change and Resilience of Road Networks" and 1.5 "Disaster Management", will be to share expertise and offer relevant recommendations so that effective solutions and counter measures may be proposed, taking into consideration the unique characteristics of each city: financial, logistic, existing networks, strategies currently in place, and so on. This Seminar also seeks to provide an overview of the challenges of managing climatic impacts and road resilience, by presenting approaches and case studies from different countries.
At the end of the seminar, there will be an opportunity to participate in a Technical Visit to the Kretek Bridge on 24 November, from 8.30am to 3.30pm.
Practical information
Dates: from 22 to 23 November, 2022
Time: from 8.30am to 5pm (UTC +7)
Venue: Marriott Hotel, Yogyakarta (Indonesia)
Modality: Hybrid
Language: English and Indonesian
---
Further information: