One month left to register for the International Seminar on Urban Mobility in Tunisia!
18 October 2022
Take part in the seminar on "Sustainable Mobility for Resilient Cities and Peri-urban Regions" in Tunis, from 23 to 25 November.
The Tunisian Roads Association (ATR), in coordination with PIARC Technical Committee 2.1 "Mobility in Urban Areas", is organising an International Seminar in Tunis (Tunisia), from 23 to 25 November 2022. During three days, members of TC 2.1, as well as Tunisian and International experts, will be giving presentations about "Sustainable mobility for resilient cities and peri-urban regions".
>> Fill in the registration form! <<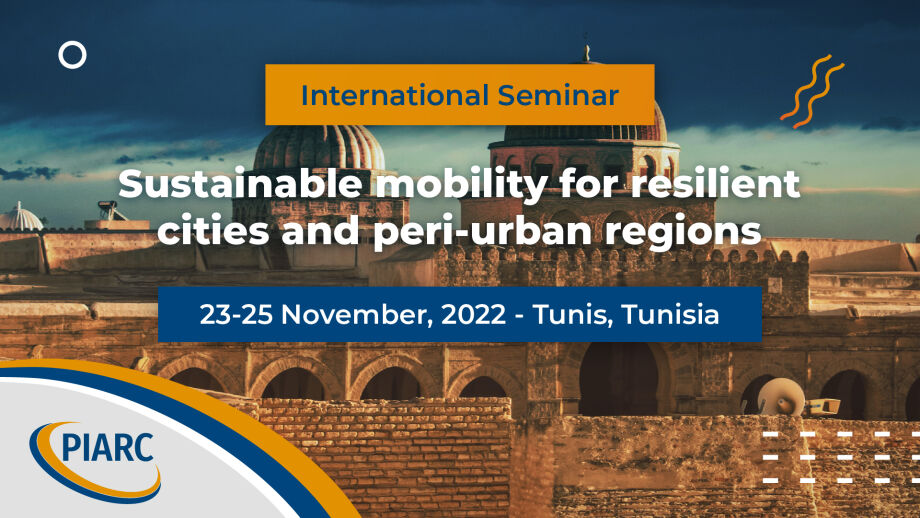 With urban sprawl, the demand for mobility is increasing, resulting in congestion, pollution, and degradation of the quality of life in cities, which is becoming a public policy issue. Mass transportation is one of the solutions to decrease the excessive use of cars. The Covid-19 pandemic and repeated lockdowns have had a positive effect, roads have been emptied and people have rediscovered walking and cycling. This reduction in cars on the road has led to a sharp reduction in pollution. With the return of cars and the lack of appropriate infrastructure, cycling in the city may seem unsafe especially with the dominance of cars' presence on the roads. However, this first experience of cycling has been memorable and appears to have been deeply appreciated.
With this in mind, this seminar is being held to exchange and present the necessary recommendations so that effective solutions and countermeasures can be proposed, taking into account the specificities of each city: financial, logistic, existing networks, strategies already in place, etc.
Practical information:
Dates: 23 to 25 November, 2022
Time: 9:00am to 5:30pm
Venue: Sheraton Hotel, Tunis (Tunisia)
Language: French and English, with simultaneous translation
Registration: click here
You will learn more details about the programme, the speakers, the accommodation or the venue by downloading the 2nd announcement.
---
Further information: