Become a sponsor or exhibitor at PIARC 2nd International Conference on tunnels!
2 September 2022
Exhibit at the Palace of Congresses, from 25 to 28 October, 2022.
PIARC and the Spanish National Committee (ATC) organise the 2nd International Conference on Road Tunnel Operations and Safety, and the VIIIth Spanish Tunnels Symposium. These two events will take place in Granada (Spain), from 25 to 28 September, 2022. It's time to become an exhibitor!
>> Book a stand here! <<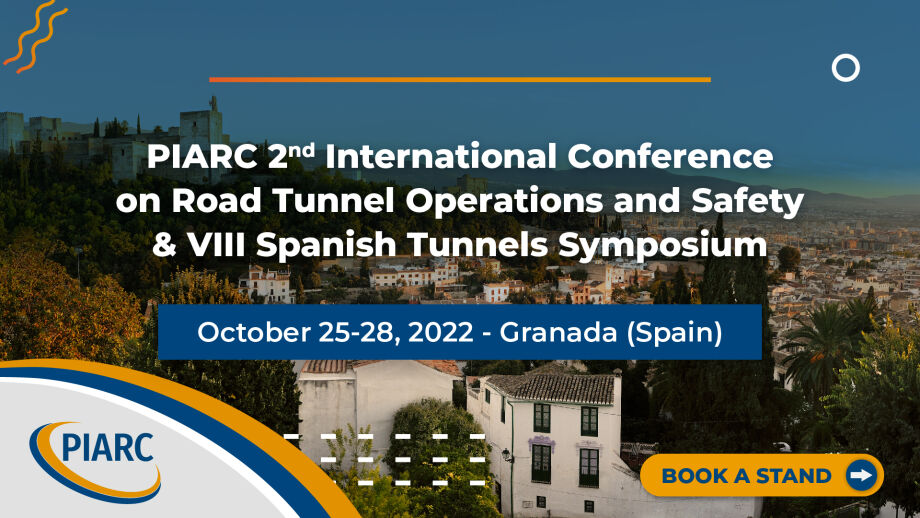 Faced with the new challenges of climate change, a sustainable economy and within the framework of Covid 19 consequences and the war in the East of Europe, it makes sense to speak of resilient infrastructures, a concept which is also applicable to tunnels. This 2nd International Conference, held simultaneously with the VIII National Tunnel Symposium, will create a forum for the exchange of ideas in order to continue improving the design and operations of tunnels in the coming years.
This conference will include many sessions, and also an exhibition. There are still a few spaces available, so don't hesitate to book your stand! This will be a great opportunity to showcase your products or services to an audience of experts and decision-makers in the field of roads and tunnels. The exhibition that came with the 2018 conference was recognised by the exhibitors as very dynamic, and there is no doubt that our Spanish hosts will repeat this great performance.
Come and meet with the 1000 operators and international experts in Granada in October!
PRACTICAL INFORMATION
---
Further information: