Join the next webinar about COVID-19: lessons learned so far and way forward
29th July 2020
This webinar will wrap-up the series of PIARC Webinars on the impact of the COVID-19 crisis on roads and road transport. It will share lessons and best practice that have been identified from our members across the globe, on topics such as road works, freight, management, finance, road safety, etc. It will also present PIARC's planned actions.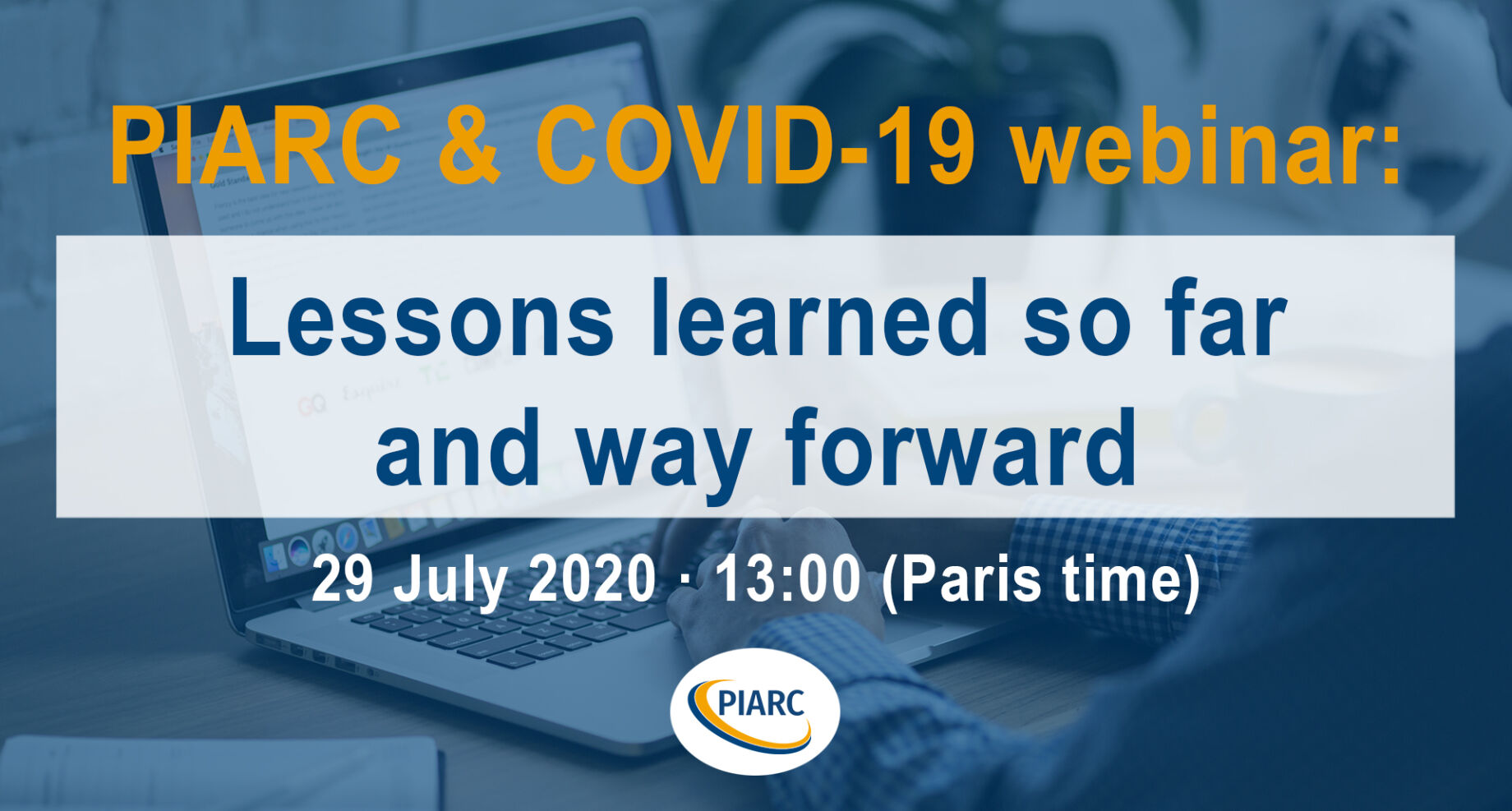 Speakers and panelists include:
Oscar de Buen Richkarday, Past President of PIARC
Young Tae Kim, Secretary General of the International Transport Forum
Mª del Carmen Picón Cabrera, Spain, Chair of PIARC's Strategic Planning Commission
Marie-Claude Petit, Canada, Chair of PIARC's Communication Commission
Experts from the PIARC's response team

This Webinar will take place in English. The presentations will be shared afterwards in French, Spanish and English.


Register now!
If you are interested in participating, please fill in the form available at this address.
This webinar is free and open to all.
---
Detailed agenda
1. Patrick MALLEJACQ, Secretary general of PIARC – Presentation of the Webinar

2. Oscar DE BUEN RICHKARDAY (Mexico), Past President of PIARC – Introductory Speech

3. Young Tae KIM, Secretary General, International Transport Forum (ITF) – Keynote Speech

4. Christos XENOPHONTOS (USA) and Valentina GALASSO (Italy) – Success of the Webinar Program

5. Findings and Lessons learned so far:
Jose Manuel BLANCO SEGARRA (Spain): management of roads during the crisis, business continuity
Valentina GALASSO (Italy): road operations, intelligent transport systems
Martin RUESCH (Switzerland): freight, border controls
Jonathan SPEAR (UAE): work force, health and safety
Caroline EVANS (Australia): passenger transport, resilience
Fabio PASQUALI (Italy): evolution of travel demand, economics

6. Christos XENOPHONTOS (USA) – Wrap up and Next steps

7. Robin SEBILLE, Deputy Secretary general of PIARC – Questions and Answers

8. Mª del Carmen PICÓN CABRERA (Spain) and Marie-Claude PETIT (Canada) - Conclusion of the Webinar
---
COVID-19 - PIARC's response
In an effort to share critical, near real-time information on actions taken by road and transport administrations during this crisis, PIARC is rapidly organizing a series of webinars for practitioners and experts to share their experience, knowledge, and some of the most effective responses to COVID-19. While current practices are not yet fully validated and what works in certain regions of the world may not be valid on a global scale, these shared experiences can be valuable tools in managing this crisis, where a good idea now could save lives, improve the resilience of the economy and employment, and minimize service disruptions now and in the future.
---
Further information: