Join the next webinar in Spanish on COVID-19 and roads!
The focus will be on the road sector in the aftermath of the COVID-19 pandemic, and more particularly on the economic and social development aspects, as well as on financial aspects.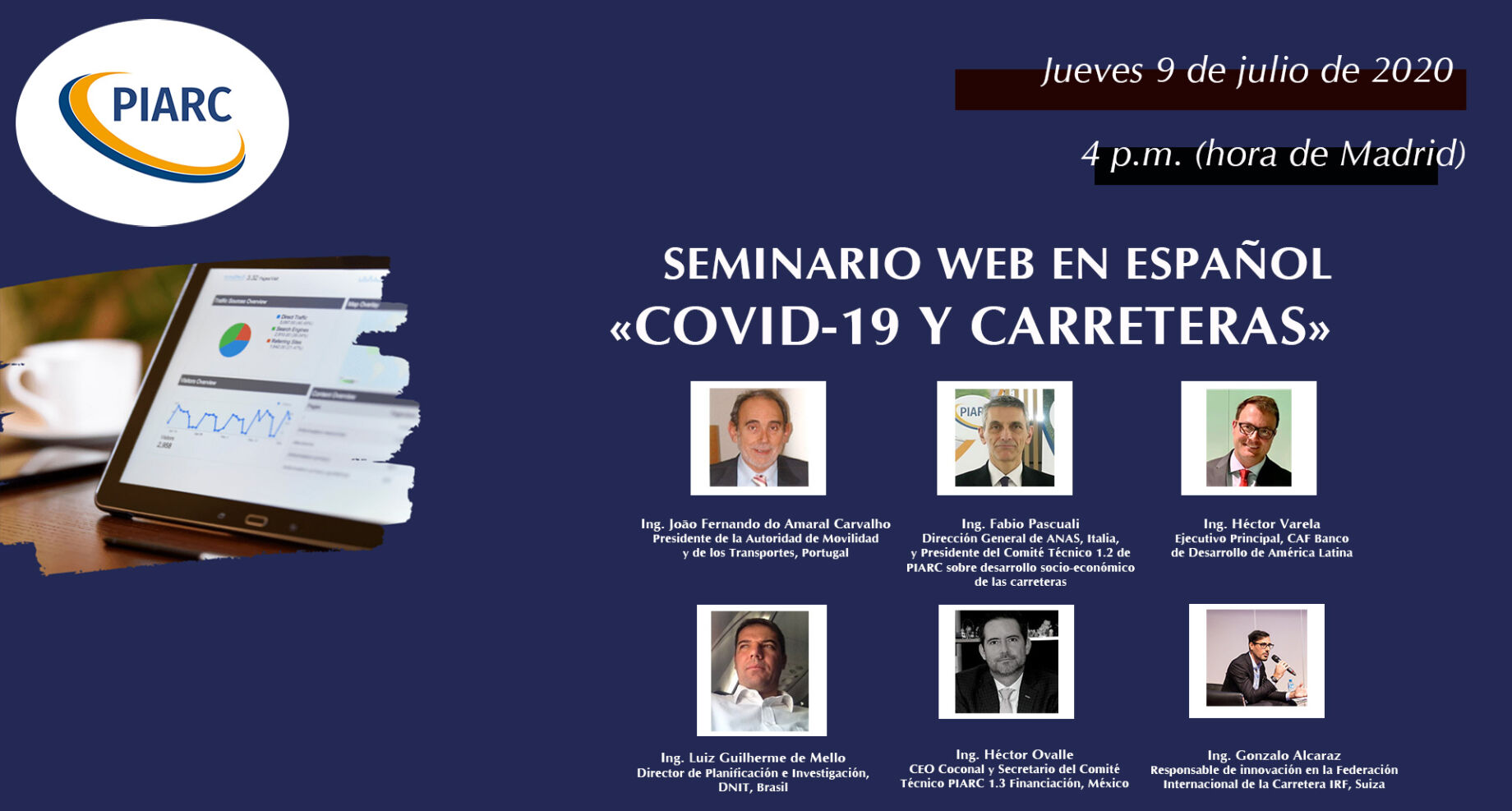 How do I register?
Register by clicking on the following link.
Seating capacity is limited and sessions will be arranged on a first-come, first-served basis.
When will it be held?
July 9th at 4 p.m. (Madrid time) / 9 a.m. (Mexico time)
Web seminar programme
Welcome and introduction to the Seminar, Ing. Miguel Caso Florez, Technical Director of PIARC (5 minutes).
Institutional presentation of PIARC, Lic. Marina Domingo Monsonís, Communication Manager of PIARC (5 minutes)
COVID-19 and roads in Portugal: Measures, impacts and perspectives. João Fernando do Amaral Carvalho, President of the Mobility and Transport Authority, Portugal (15 minutes).
COVID-19 and roads: Consequences for PPPs of toll motorways and prospects for renegotiation of contracts in the light of COVID-19. Fabio Pascuali, ANAS Directorate General, Italy, and President of the PIARC Technical Committee 1.2 on socio-economic development of roads (15 minutes)
COVID-19 and roads in Latin America: Roads and CAF, allies against COVID-19 in Latin America. Ing. Héctor Varela, Chief Executive, CAF Latin American Development Bank (15 minutes)
COVID-19 and roads in Brazil. Luiz Guilherme de Mello, Director of Planning and Research, DNIT, Brazil (15 minutes).
COVID-19 and roads in Mexico: Public Private Partnerships versus COVID-19. Ing. Héctor Ovalle, Coconal CEO and Secretary of the PIARC 1.3 Technical Committee, Mexico (15 minutes).
COVID-19 and roads: shaping the recovery for the road sector. Ing. Gonzalo Alcaraz, Head of Innovation at the International Road Federation IRF, Switzerland
Debate and questions through chat, moderated by Eng. Verónica Arias Espejel, Technical Advisor of PIARC (30 minutes).
Conclusions of the Seminar, Eng. José Manuel Blanco Segarra, Ministry of Transport, Mobility and Urban Agenda (6 minutes).
Closing of the Seminar.
Approximate duration: 3 hours
---
COVID-19 - PIARC's response
In an effort to share critical, near real-time information on the actions taken by road and transport administrations during this crisis, PIARC is rapidly organizing a series of webinars for practitioners and experts to share their experience, knowledge and some of the most effective responses to COVID-19. While current practices are not yet fully validated and what works in certain regions of the world may not be valid on a global scale, these shared experiences can be valuable tools in managing this crisis, where a good idea now could save lives, improve the resilience of the economy and employment, and minimize service disruptions now and in the future.
---
Further information: