PIARC Advisory Group - Road sector actions and response to COVID-19 pandemic
26 May 2020
The latest meeting of PIARC Advisory Group took place on 26 May 2020 and focused on COVID-19 related activities and how the impact that the pandemic has had on the road sector.
PIARC Advisory Group meets 1-2 times per year to discuss recent activities at PIARC and the invited international organizations and to address emerging issues and trends in the road sector.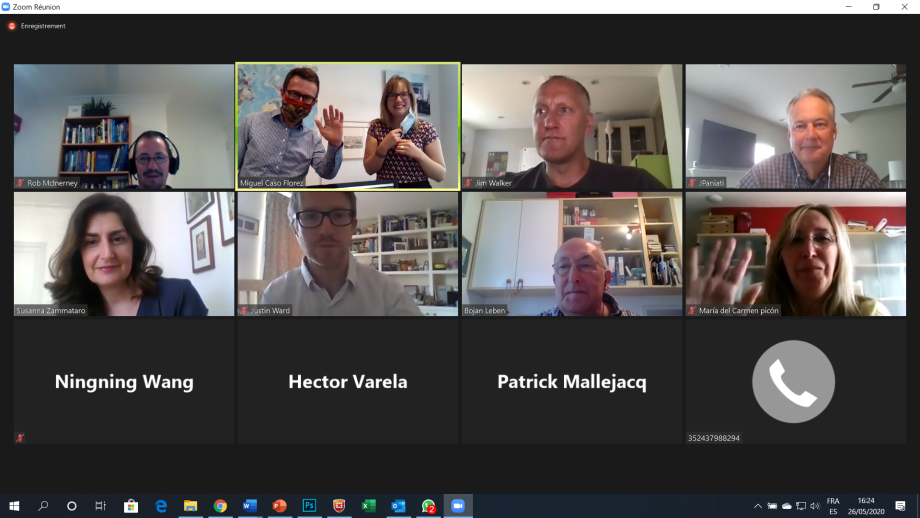 The latest meeting took place on 26 May 2020 and focused on COVID-19 related activities and how the impact that the pandemic has had on the road sector. This was the first time the Advisory Group met via online meeting instead of meeting in conjuncture with a major international event.
PIARC introduced the new Strategic Plan 2020-2023. Horizontal topics that are present throughout the plan are Climate Change, Resilience and Road Safety and the plan also emphasize win-win collaborations as important and value-adding to PIARC's members. PIARC is working on a short description on how other organizations can collaborate with the Association in different capacities, this will shortly be available through the website piarc.org.
The main topic on the agenda was Road sector actions and response to COVID-19 pandemic. PIARC has set up a response team that address COIVD-19 around these six key issues:
Ensuring employees' health and safety in general
Maintaining activity and business continuity
Impact on transportation
Business Relations
Customer and stakeholder relations and joint working
Security
COVID-19 response and actions at international organizations
PIARC Partners and invited international organizations represented a wide coverage of topics and several of them have created knowledge hubs or collections of resources related to COVID-19 impact on their working topics. These can be accessed through PIARCs webpage, along with several resources from other organizations worldwide.
The pandemic has had significant impact on public transport all over the world, where some cities and regions have experienced about 90% decrease in ridership. This has great impact on both the financing of public transport, but also change in demand for other modes of transport. Several of PIARC partner organizations share the experience that many cities and regions already had plans for respacing streets to promote safe biking and walking; these plans have often been fast-tracked when the COVID-19 pandemic hit, as an effort to offer other alternatives than single user vehicles when the capacity of public transport is heavily reduced. At the same time, a large part of pedestrian travel still takes place on unsafe roads – which was also the situation before the pandemic. Road safety is also an important to issue to keep addressing, as the fatality rate of accidents has increased due to increased actual speed on the roads. In a situation where health care systems are under high pressure, keeping the number of accidents on roads low are also a contribution to fighting the pandemic.
Investment banks are also considering how a crisis, such as the COVID-19 pandemic, and its repercussions, can affect economies and investments in infrastructure. Sustainable development stays as an important criterion to evaluate investment options against, and it is clear that investment in infrastructure is an important topic. Both CAF and EIB highlights the multiple benefits of investments to further road safety in Latin America and Europe, and the World Bank draws on experiences from the impact of the financial crisis in 2008-2009 where they learned that investments in rural road maintenance was the most cost-effective area to invest in when it comes to creating short-term employment in the infrastructure sector. Several other organizations also raised concerns about how available funding for road infrastructure and road transport will be impacted by the pandemic. When the need for public health care has risen, the budget will most likely need to be rebalanced for other public services – such as infrastructure and transport.
Lastly, the need for innovation, research and new tools were discussed from a few different perspectives. It seems clear that the shared worldwide experience of this pandemic might impact travel patterns and demand for mobility and we will need to address the future with somewhat new eyes on roads and road transport.
---
Further information: