New issue of PIARC's magazine "Routes/Roads" now available online & in print!
April 2020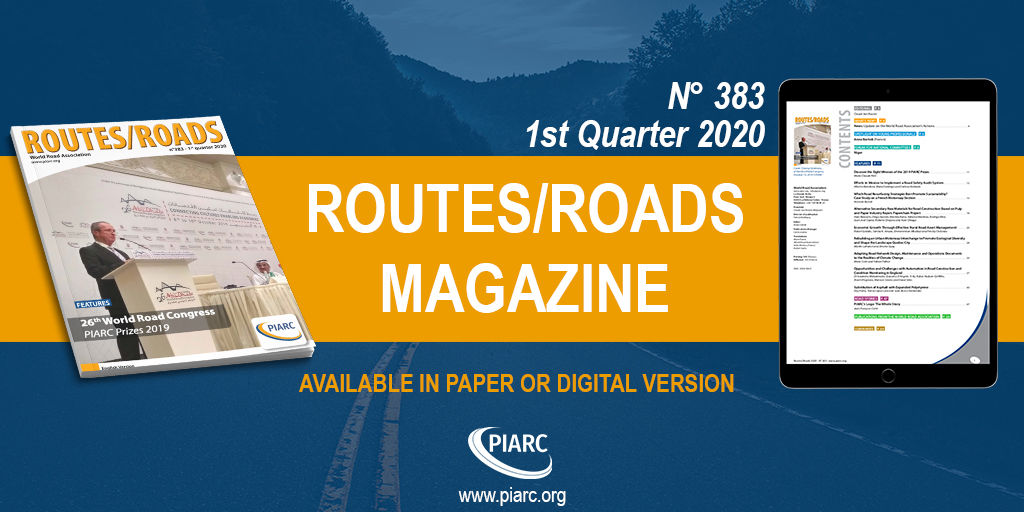 The latest issue of Routes / Roads magazine (No. 383) of PIARC is available. Dedicated to the Eight Winners of the 2019 PIARC Prizes, it also reviews the latest activities and publications of PIARC. You will also discover the story of PIARC logo, a young road professional working in environmental technologies, as well as a portrait of the National Committee from Niger.
Available in paper and digital versions, it is available here: routesroadsmag.piarc.org
Routes / Roads is a quarterly news magazine. The articles present analyses or summaries, recommendations, or the state of practice in a country, on current topics of interest to the Road and Road Transport. Authors may or may not be members of the Association. Articles are peer-reviewed by PIARC Technical Committees or external experts to decide on their publication.
The subscription is offered at a rate of 60 € per year (four issues).
---
Further information: