PIARC Prizes: Discover the eight winners of the XXVI World Road Congress
6-10 October 2019, Abu Dhabi (United Arab Emirates)
At the World Road Congress held in Abu Dhabi from 6 to 10 October 2019, PIARC awarded a prize for the most outstanding papers in eight different categories.
The PIARC Prizes are intended to encourage innovation, recognize professional competence, highlight topics of particular interest, promote the interests of developing countries and stimulate long-term reflection on the future of transport systems.
As part of the XXVIth World Road Congress, an important call for papers on 41 themes complementary to the Technical Committees' themes was launched. More than 600 authors responded to this call and presented their work during the Congress. Eight papers received a PIARC prize, recognizing the most outstanding papers in each of the following categories:
Young professionals (under 35 years old), prize sponsored by Switzerland

Developing countries (low- and middle-income countries), sponsored by Malaysia

Best innovation, prize sponsored by Belgium

Safety of road users and workers, sponsored by Australia

Sustainable development, awards sponsored by Germany and the Czech Republic

Road design and construction,sponsored by U.S.

Road maintenance and operation, sponsored by the United Kingdom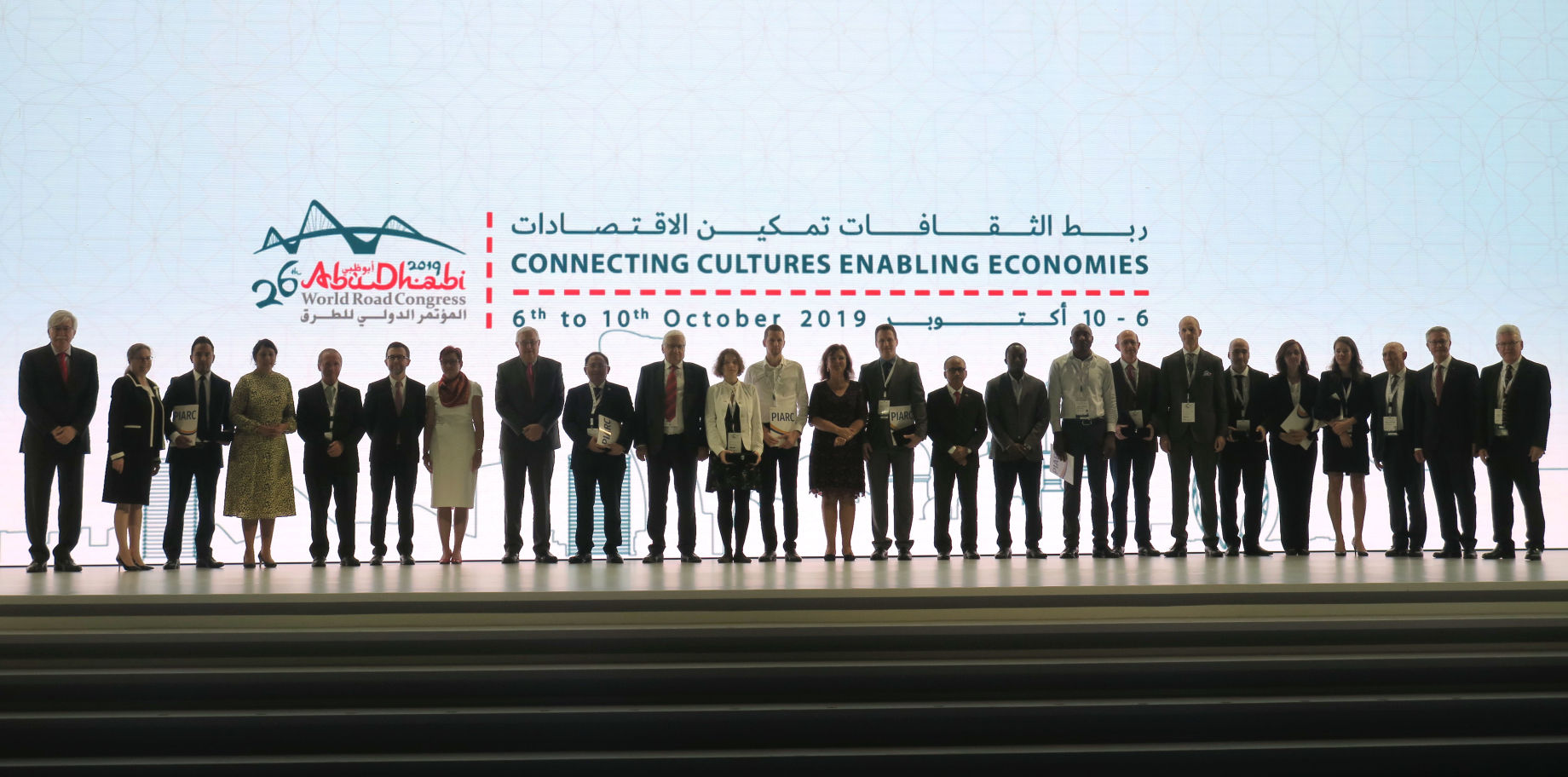 The international jury was composed of the General Secretariat, the Strategic Theme Coordinators and a representative from each country sponsoring a prize: Andreas Heller (Switzerland), Annick De Swaef (Belgium), Ir Haji Zulakmal Bin Haji Sufian (Malaysia), Peter Ellis (Australia), Peter Schmitz (Germany), Václav Neuvirt (Czech Republic), Derrell Turner (USA), Lila Tachtsi (UK), Ernesto Barrera (Chile), Roberto Aguerrebere (Mexico), Jean-François Corté (France), Patrick Malléjacq (PIARC Secretary General) and Miguel Caso Flórez (Technical Director at the PIARC General Secretariat).

The winners received their awards from PIARC President Claude Van Rooten and Marie-Claude Petit, President of the International Jury of the PIARC Prizes, in front of thousands of delegates at the Abu Dhabi National Exhibition Centre.
---
Find out more:
- See interviews with representatives of PIARC Prizes sponsor countries
- Relive the opening and closing ceremonies, the ministers' session and the opening speeches:
- Website of the XXVIth PIARC World Road Congress