Dangerous goods in tunnels: a new PIARC software!
A new version of the DG QRAM software (Quantitative Risk Assessment Model for the Transport of Dangerous Goods in Road Tunnels) has just been published! Training sessions are scheduled for June 24, 25 and 26, 2019 in Paris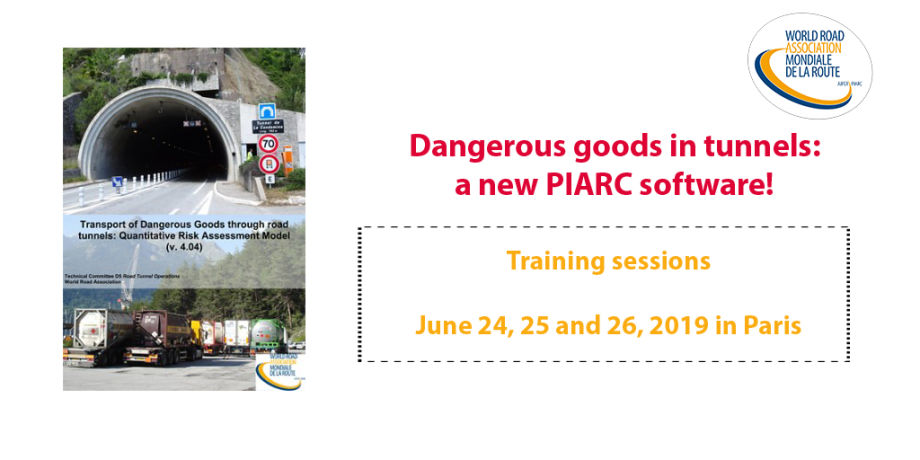 Incidents involving dangerous goods spills are among the most serious in road tunnels.
To address this issue, a quantitative risk assessment model (QRAM) has been jointly developed by the World Road Association (PIARC) and the Organisation for Economic Co-operation and Development (OECD) to assess the risks of the transport of dangerous goods through road tunnels. This software has recently been updated and is available from PIARC.
---
What does the quantitative risk assessment model do?
In particular, the software takes into account the European ADR ("Agreement for Dangerous Goods by Road") regulations.
It allows users to:
assess societal risks due to the transport of dangerous goods for a tunnel or route;
compare the societal risk of a tunnel or along a route with benchmarks;
assess the societal risks for each ADR1 category (A to E) of a given tunnel, in order to facilitate the choice. The societal risk of categories A and E corresponds respectively to the societal risk of the tunnel route and one (or more) alternative transport route(s).
The software can be used to perform a specific risk analysis for the transport of dangerous goods. This specific risk analysis may form part of the general risk analysis required by the European Directive 2004/54/EC on minimum safety requirements for tunnels in the trans-European road network.
---
Integrated progress in the update
A working group has been established under the aegis of PIARC's Road Tunnel Operations Committee (D.5) to update QRAM.
In a first phase, QRAM was made compatible with the most recent versions of Window operating systems. PIARC has now completed this most urgent phase and the updated version of QRAM is now available, thanks to the financial contributions provided by 8 European donor countries.
In a second phase, the group is now working functionalities to be added to QRAM, which take into consideration users' reactions.
---
How can I obtain the QRAM software?
The license price is €1,500 for new buyers, and €1,000 for buyers of the old QRA-3.61 version.
All relevant information and the order form are available on the PIARC website:
https://www.piarc.org/en/knowledge-base/road-tunnels/qram_software/
---
How can I participate in a training session?
PIARC has entrusted Pont Formations Conseil (PFC) with the task of organising training sessions. They will be held in Paris, in English. Two training courses are available:
for expert users, on June 24,
for new users, on June 25 and 26.
Registration is already open via the PFC website (link below), which also provides a detailed programme of these sessions. "Advanced Users" corresponds to "expert", "New Users" corresponds to "new users".
Due to the limited number of places available for these training sessions, registrations will be on a first come, first served basis.
---
For more information: