PIARC held its annual statutory meetings from 22 to 26 October in Yokohama (Japan)
Yokohama (Japan), 22 - 26 October 2018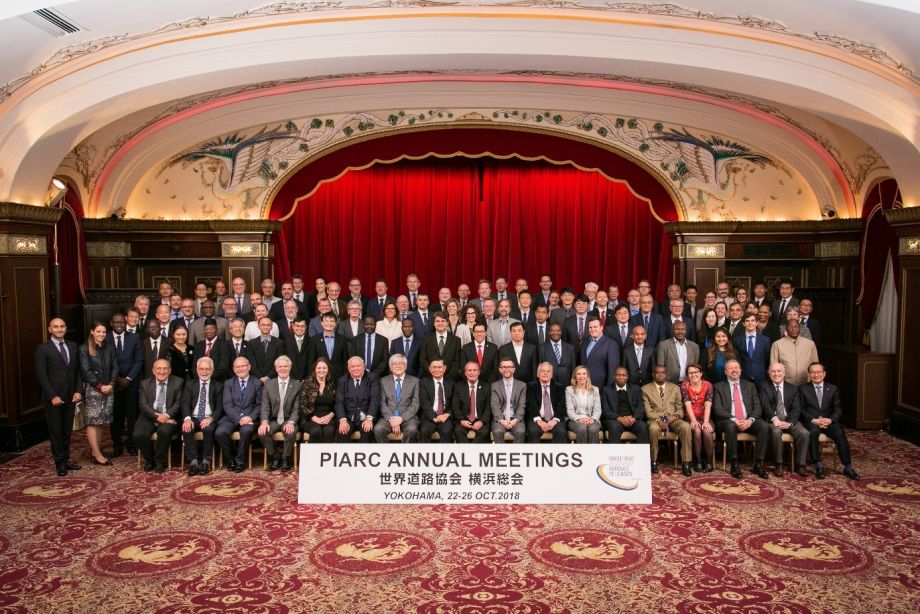 The city of Yokohama (Japan) hosted, from 22 to 26 October, the statutory meetings of the World Road Association for the year 2018: the Council and the Executive Committee, under the chairmanship of Claude Van Rooten, President of PIARC, as well as the Conference of National Committees, the Strategic Planning Commission and the Communication Commission. The Council is the governing body of the Association, and it has brought together key officials from more than 47 countries in Yokohama.
The Council accepted the application for membership of a new member country: Botswana and took note of the establishment of two National Committees, Bulgaria and Côte d'Ivoire, within the Association's network of National Committees.
These meetings were an opportunity to discuss the progress of the work in order to achieve the Association's objectives for the period 2016 - 2019. In particular, the Secretary-General highlighted the forthcoming publication of many high-quality technical documents, widely used in the road and transport sector, as well as the large number of conferences, seminars and workshops organised around the world, particularly in low- and middle-income countries.
Two special projects were presented, one on electric road systems and the other on the contribution of road transport to economic development.A new special project has been decided on positive energy roads, the results of which will be presented in October 2019.
A very rich debate on innovative technologies for road maintenance was held in the morning, with presentations by Austria, Germany, Spain, China, the United States, Finland, Greece, Japan and Portugal. Applying innovation in construction, maintenance and road operations is very cost-effective. Road administrations around the world are exploring the possibilities of new technologies to apply innovation in their daily lives.
The Association also continued to work on the preparation of its next Strategic Plan based on the guiding principles of quality, flexibility and responsiveness.
Finally, the Council conferred honorary membership on Joseph Haule (Tanzania), María del Carmen Picón (Spain), Pietro Giannattasio (Italy), and Roy Brannen (United Kingdom).
---
The XXVIIth World Road Congress will be held in Prague in 2023
The PIARC Council was also able to confirm the progress made in the preparation of the next World Road Congress to be held in Abu Dhabi (United Arab Emirates), from 6 to 10 October 2019, as well as the next International Winter Road Congress, to be held in Calgary (Canada) from 8 to 11 February 2022.
Finally, the Council selected the candidature of the city of Prague (the Czech Republic) to organize the XXVIIth World Road Congress in October 2023.
---
Further information: