Submit your abstract before 30th September 2018 and contribute to next PIARC World Road Congress!
Are you a road or transport expert ? Join PIARC in Abu Dhabi in October 2019 for this exciting event!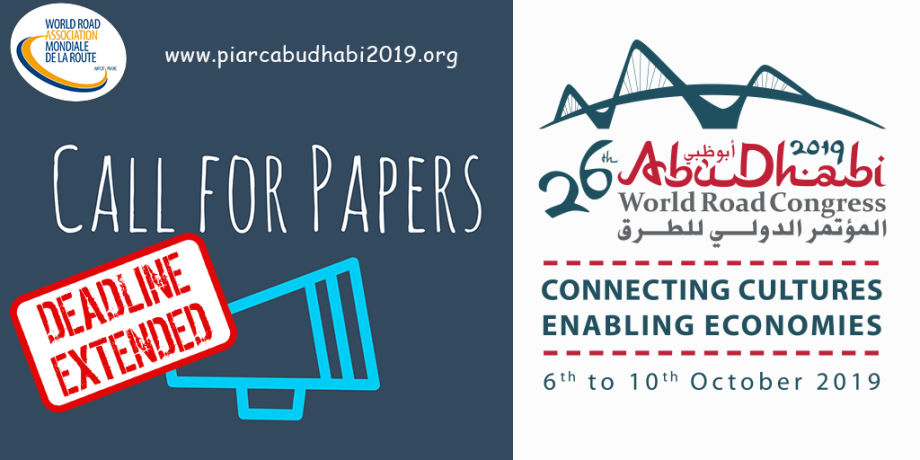 The XXVI Abu Dhabi World Road Congress will focus on "Connecting cultures - Enabling economies". PIARC has launched a call for papers on 41 topics, specific to the Association's 5 Strategic Themes, in order to contribute to the Congress. The purpose of this call for papers is to enrich and expand the work and reflections of PIARC Technical Committees and Task Forces. All road and transport experts are invited to submit abstracts.
Do not wait any longer and submit you abstract here before 30 September 2018!
Papers will be reviewed by PIARC Technical Committees and Task Forces. Papers that are accepted will be published in the Congress proceedings and will provide input into the Congress sessions. All authors of accepted papers will present their work and results at interactive poster sessions. Some outstanding contributions will be selected for an oral presentation during the Congress.
PIARC organises the XXVIth World Road Congress in Abu Dhabi, United Arab Emirates, from 6 to 10 October 2019, jointly with the Abu Dhabi Department of Transport. It will include around 50 sessions, a large exhibition, technical visits and social activities and will attract over 5,000 ministers, companies, administrations, experts from all over the world.
---
Further information: