Save the date! Tanzania will host the International Seminar "Low-Income Countries' Dynamism in the face of the Fourth Transport Revolution"
Arusha (Tanzania), 14-16 November 2018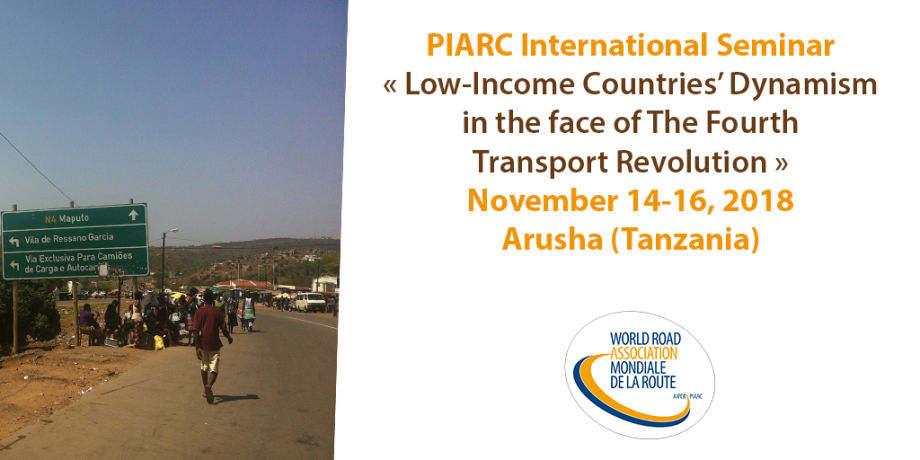 The PIARC International Seminar "Low-Income Countries' Dynamism in the face of the Fourth Transport Revolution" will run from 14 to 16 November 2018 in Arusha and will be jointly organised by Technical committee A.2 (Road Transport System Economics and Social Development) of the World Road Association (PIARC) and the Tanzanian government.
One of the main outcomes of the Industrial Revolution for countries in Western Europe and the USA was massive improvements to transport systems. The emergence of mechanised transport resulted in the development of communication channels (waterways, as well as land, rail and air routes). During the 19th century, transport systems underwent a revolution made up of three key stages: development of trains in around 1830, steam navigation around 1850, and then the emergence of the car and aviation around the turn of the century.
The Fourth Transport Revolution is underpinned by the digital revolution. Its speed, range and impact all mean that it is completely different from previous revolutions, and it is taking place at an exponential rate. Furthermore, it is disrupting all business sectors throughout the world. The scale and the importance of these changes are bringing about the transformation of entire production, management and governance systems.
The seminar will focus on low-income countries. These countries are struggling with challenges associated with the four revolutions. They represent dynamic political areas. In these complex areas, the transport sector overlaps with farming, healthcare, education and many others. The seminar will examine the complex nature of this reality by focusing on the associated problems, stakeholders and platforms.
Following a call for papers issued by PIARC Technical Committee A.2, the articles chosen for the seminar will investigate topics such as moulding the road infrastructure development policy, infrastructure supply and investment assessment.
---
Further information: