Watch the webinar on Unmanned aerial systems (UAS, drones) hosted by FHWA and the World Road Association (PIARC)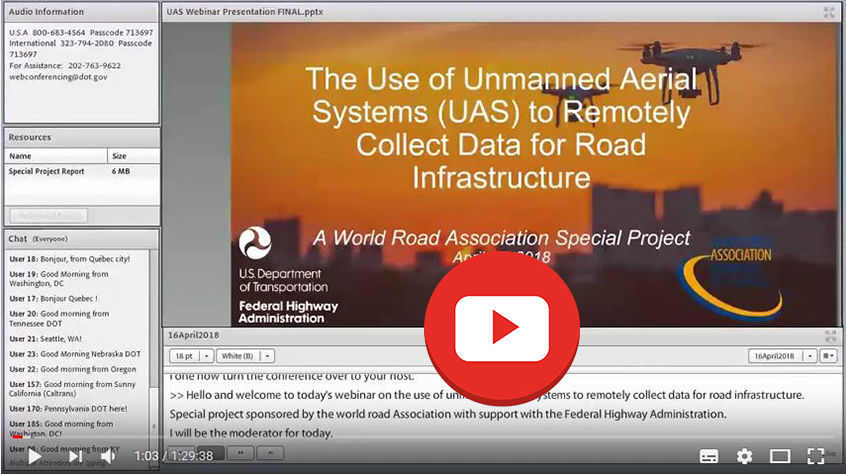 Unmanned Aerial Systems (UAS) and Highways - An International Perspective Webinar hosted by the Federal Highway Administration (FHWA) and the World Road Association (PIARC) met great success by bringing together more than 500 people online.
The webinar was held on April 16, 2018 to present the outcome the Association' Special Project on "The Use of Unmanned Aerial Systems to Remotely Collect Data for Road Infrastructure.". Unmanned aerial systems (UAS, more commonly known as drones) are gaining popularity in many industries due to their low cost, quick turnaround, safety, and ability to reach remote locations that are hard for humans to access. The Special Projects mechanism allows PIARC to respond quickly to emerging issues for its member countries. This Special Project provides a global overview of successful UAS usage in road transportation.
The webinar disseminated the content of this Special Project designed to help agencies understand the benefits, challenges, and best practices from around the world in using UAS to collect road data. It featured an overview of the Special Project report as well as in-depth case studies on the use of drones in bridge component inspection as well as highway design and construction.
PIARC has long been committed to the use of innovative technologies for safer road infrastructure and ever-increasing use of road networks.
Would you like to watch the webinar? Nothing's easier! Just click here: https://youtu.be/SBFKjP7H0Pg
The report will soon be available on the PIARC website!
---
Further information: