More than 1,000 experts took part in the XVth International Winter Road Congress in Gdansk
For four days, the Polish city of Gdansk became the world winter road capital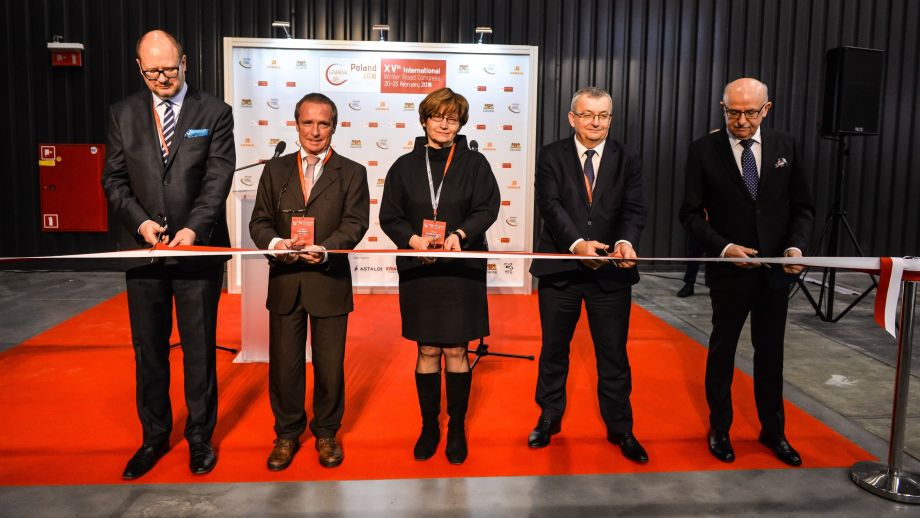 From left to right: Pawe? Adamowich, Mayor of Gdansk; Claude Van Rooten, president of PIARC; Deputy General Director GDDKIA, Iwona St?pie? - Kotlarek; Minister Adamczyk; Andrzej Kasprzak - Gdansk International Fair Co/AMBEREXPO President of the Board
More than 1,000 attendees from 42 different countries were at the XVth International Winter Road Congress, held this year in Gdansk (Poland) from 20 to 23 February 2018. They included representatives of four Transport Ministries (Poland, Japan, Lithuania, Montenegro) and numerous road directors. Featuring more than 139 oral presentations, 170 posters, 52 exhibitors - including 12 national or regional pavillions -, and 22 of the world's finest snowplough drivers going head-to-head in a traditional obstacle race, this year's Congress was a genuine success.
So, for four days, Gdansk became the world's winter maintenance capital. Four days of intense activity during which topics such as how to optimise road infrastructure and manage mobility in winter conditions were discussed during technical sessions and poster sessions.
Attendees from 42 different countries compared their experiences and their concerns about the sector's future and the changes currently under way. Issues discussed included reducing pollution, improving communication with road users, deploying new technologies to optimise the States' and road network operators' resources.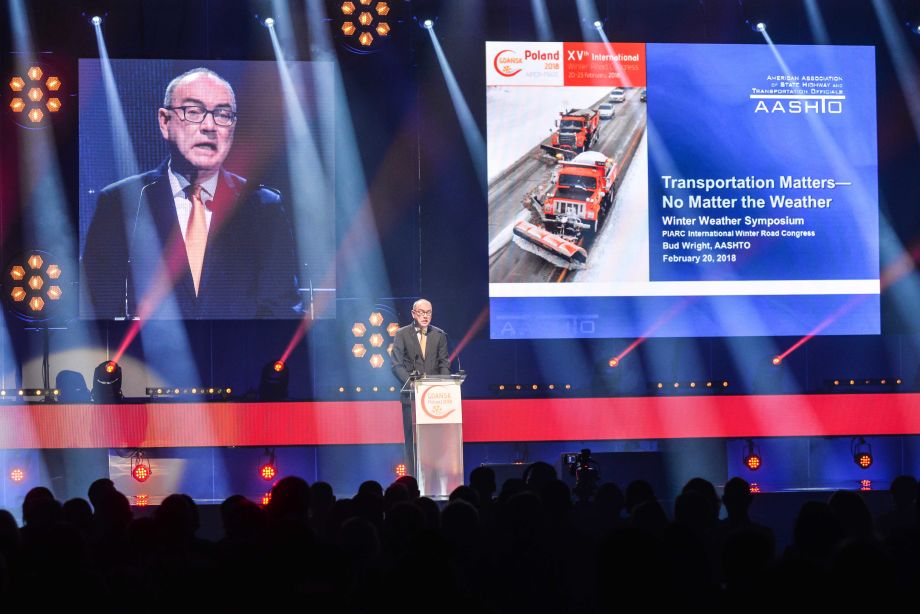 Frederick G. (Bud) Wright, Executive Director of the American Association of State Highway and Transportation Officials (AASHTO)
"Ensuring safe and efficient winter road service to users" and "Delivering winter maintenance in a context of sustainable development" enthralled those who attended the inaugural session, opened by Frederick G. (Bud) Wright, Executive Director of the American Association of State Highway and Transportation Officials (AASHTO), who delivered the keynote speech on "Transportation Matters - No Matter the Weather". Following this address, transport ministers from Poland, Japan, Lithuania and Montenegro, together with high-ranking civil servants from Canada-Québec, the United Kingdom, Slovakia and Latvia discussed the consequences of extreme weather on road network management, as well as new ways for communicating with road users in winter.
In addition to the technical programme, the Congress featured more than fifty stands, many company brands and winter maintenance equipments. Several of the World Road Association's national committees, such as Canada, the Czech Republic, France, Italy, Japan, Poland, Slovakia and South Korea were present. Abu Dhabi China, Norway as well as representatives of the Nordic Road Association also took part.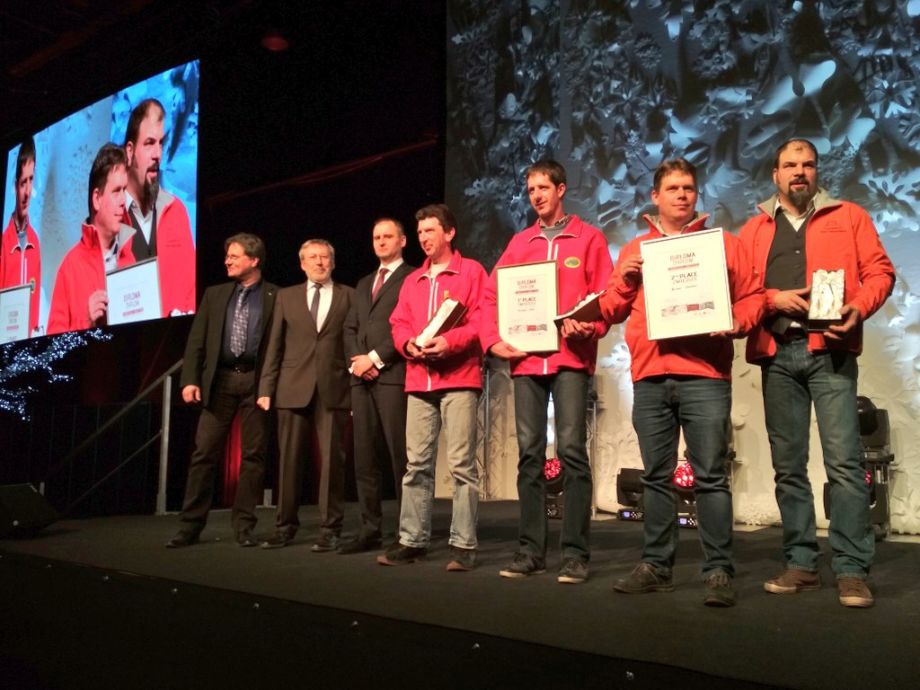 Winners of the 3rd Snowplough Championship
The Congress was also an opportunity to showcase the successful International Snowplough Championship, which was first held in Québec in 2010, with the second edition featuring as part of the 2014 Congress in Andorra. Attendees enjoyed skillful demonstrations provided by the most dexterous drivers from eight different countries. The winners of this third edition were Austria's Gerard Vock and Bertram Unger (first and third position, respectively) and Germany's Reiner Dunker. First and foremost, the event is an opportunity to pay tribute to the work done by the women and men who manage our road networks out in the field in all weathers and keep them safe
The Congress also saw the World Road Association's Technical committee on Winter Service (TC B.2) meeting. Furthermore, CEDR and AURORA chose the World Road Association's Congress to hold their own workshops which rounded off the session programme.
Providing a safe and sustainable road service
Over the past four years, since the XIVth International Winter Road Congress in Andorra in February 2014, our knowledge and experience have expanded while road traffic increased, together with mobility demand. Being able to ensure an effective winter road service remains a difficult exercise that we were able to explore via various presentations. You will find all the technical conclusions in issues 375 and 377 of the World Road Association's Routes/Roads magazine that you can access for free at www.piarc.org. The Congress's proceedings will also soon be available on the World Road Association's website.
The focus is now on Canada, and more specifically on Calgary in Alberta - the venue for the World Road Association's next Winter Road Congress, which will be held in 2022.
---
Further information: