PIARC and ARRB organize the 8th Symposium on Pavement Surface Characteristics: SURF 2018
2 - 4 May 2018, Brisbane (Australia)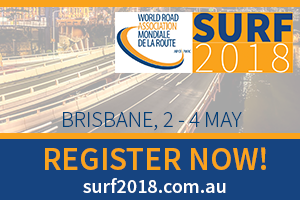 The good management of road pavements is one of the key priority areas for road managers all around the world and this is why the Association dedicates a Technical Committee to this important topic. Under the leadership of Mr Seung-Hwan HAN (South Korea), this Committee currently addresses three issues, which are: Sustainable paving solutions and sustainable pavement materials, Low cost pavements systems, Non-destructive pavement monitoring and testing techniques.
What's more, in line with the Association's mission to share and disseminate knowledge, the Australian Road Research Board (ARRB) and the Association's Technical Committee on pavements will jointly organise the 8th Symposium on Pavement Surface Characteristics, "SURF 2018".
This will be an exciting conference, which will include an exhibition, workshops, panel discussions as well as technical sessions, established after a successful refereed international call for papers.
More than 150 experts are expected, including infrastructure owners and managers, road surfacing researchers, academics, industry professionals. The discussions will address recent developments and in pavement surface characteristics, methods to improve the quality of road infrastructure, effective management of road infrastructure assets in accordance with user expectations and managers' requests, and will be structured around five key themes:
Smart surfaces
Vehicle-road interaction
Data collection with a purpose
Safer road performance
Sustainable and recyclable wearing courses with a focused consideration of Vehicle to Road Connectivity.
The conference will take place from 2 to 4 May 2018, at the Brisbane Convention and Exhibition Centre, in the heart of Queensland's capital city. It will be part of a prestigious series of events, as it will follow the 28th International ARRB Conference, with a focus on'Next Generation Connectivity', and the Council meeting of the Road Engineering Association of Asia and Australasia (REAAA).
---
Further information: