The World Road Association will be at the world Pavement Preservation & Recycling Summit (PPRS 2018): 26 to 28 March, Nice (France)
Nice (France), 26 - 28 March 2018
Don't delay, sign up today!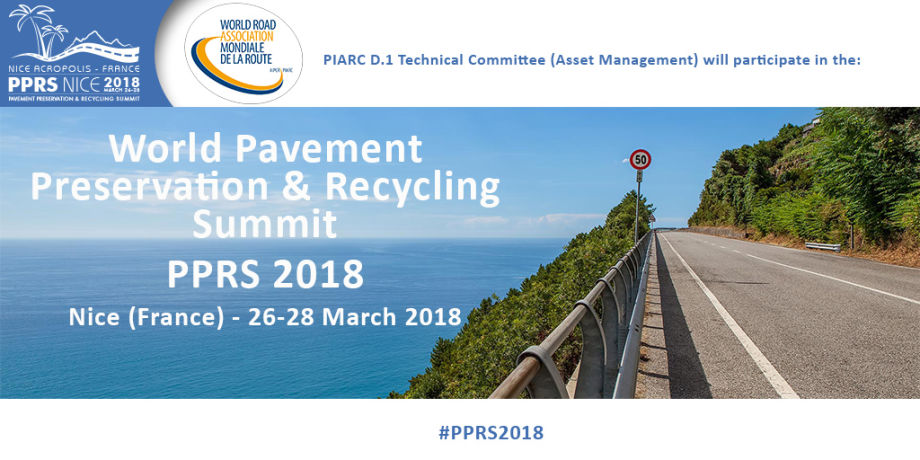 The World Road Association is supporting the world Pavement Preservation & Recycling Summit (PPRS) - to be held in Nice (France) from 26 to 28 March 2018 - with a technical session organised by its D.1 Technical Committee (Asset Management).
Organised by Routes de France, ERF and IBEF, the second edition of this event (the first was held in Paris in 2015, and the World Road Association played an active role in that one as well) will tackle issues to do with effective road asset management. The summit will be an opportunity for experts from all over the world to:
Exchange ideas with mobility stakeholders in order to take advantage of opportunities and innovations to adapt and enhance the value of our roads and the new roles that they play as far as future types of mobility are concerned;
Share innovation and new opportunities and functions of roads for future types of mobility;
Encourage the participation of the main decision-makers, politicians and users.
With this in mind, members of the World Road Association's D.1 Technical Committee, supported by Claude Van Rooten (president of the World Road Association), who will attend the summit's opening session, will provide answers to questions such as: How should we schedule upkeep and maintenance works? What strategies should be adopted? How can the appropriate funding be mobilised? How can performance be measured?
To answer these questions, the World Road Association already has a number of new tools. These include the new online manual, which is a mine of information for all countries, regardless of their level of development, many reports, and the HDM-4 software, developed in collaboration with backers such as the World Bank.
Register for PPRS 2018 and come and visit the World Road Association's Hall with the Association's French committee at H4 BIS! You can also follow the conference on the social networks: @PPRSummit and #PPRS2018.
French, English and Spanish will be the official languages of the conference.
---
For further information: