Editorial - Newsletter February 2018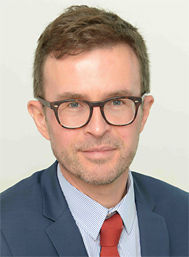 Patrick Malléjacq, Secretary General
Dear readers,
As the International Winter Road Congress draws near, the whole team is getting ready to welcome you to Gdansk from 20 to 23 February. The 15th Congress looks set to get off to an excellent start. Many people have registered, there will be 11 national halls and 21 teams will be taking part in the International Snowplough Competition. The Congress will feature 38 technical sessions, 5 poster sessions and numerous friendly meetings organised by our Polish hosts... and will be an excellent opportunity to talk to both experts and practitioners. Visit https://aipcrgdansk2018.exposupport.pl/en-us/buy-ticket if you have not already signed up!
For the Association, bringing our products to the public's attention and talking to our partners and members are essential. So I would like to take this opportunity to talk briefly about a few of the events to which we contribute, alongside our own World Road Association Congresses:
Annual meeting of the TRB, in Washington (United States) in January: our colleague John Milton (Washington State Department of Transportation and member of the C.1 Committee) organised a session on road safety and the World Road Association's products, to which I had the honour of contributing; a webinar is scheduled on this topic for April.
Aurora Summit 2018, in Olos (Finland) in January: our President talked about what the future holds and projects under way in the field of automated driving at the opening conference of this ecosystem.
PPRS 2018, in Nice (France), in March: the World Road Association will be very well represented at the world Pavement Preservation & Recycling Summit, an event which is about an issue of key concern for road authorities and operators throughout the world - maintaining and managing assets.
And the World Road Association is delighted to have been invited to join the SuM4ALL consortium, a World Bank initiative set up to facilitate the implementation of Sustainable Development Goals (SDGs) through the active contribution of the transport sector. We will be very keen to share the assets of the road and road transport sector, and to help share examples of best practice, thus meeting the needs of low- or intermediary-income countries, which are one of the Association's priority targets
Kind regards,
Patrick Malléjacq