New issue of PIARC's Routes/Roads magazine, all about Innovative techniques
The new issue of the World Road Association's quarterly magazine is now available in an electronic version, as well as in hardcopy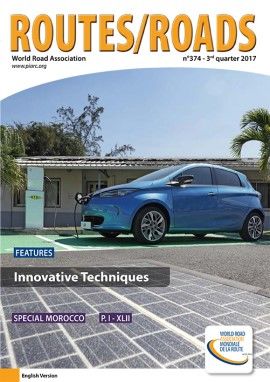 The new issue of Routes/Roads focuses on innovative techniques, stemming from very diverse regions across the world and investigating concerns as varied as unconventional footbridges or bridges, earthworks and futuristic materials, through contributions from France, Norway, Morocco and China.
You will also discover the beauties of the Stelvio Pass (Italy), communications from Japan, Italy and Lithuania, as well as a portrait of the Moroccan National Committee.
Routes/Roads is available as a dedicated interactive website. It can also be downloaded as a pdf file.
All members of PIARC receive copies of the magazine and can access it online. Subscription options are also offered for non-members.
Find out what's Inside!
---
For further information: