The World Road Association at the World Conference on Pavement and Asset Management in Italy
Baveno (Italy), 13-16 June 2017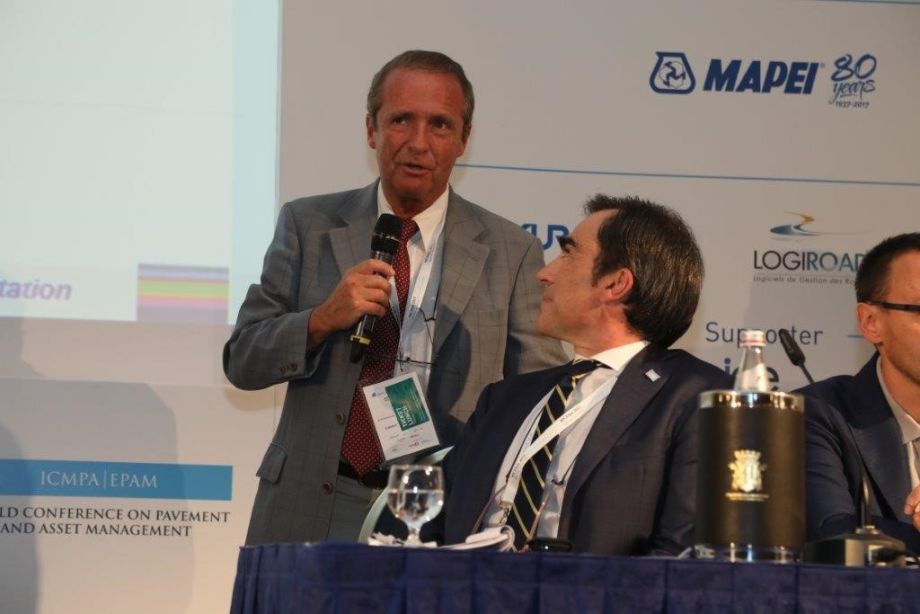 Claude Van Rooten, President of the World Road Association, alongside Professor Maurizio Crispino, President of the Congress
The World Road Association (PIARC) actively supported the World Conference on Pavement and Asset Management (WCPAM) held in Baveno earlier this month. Indeed, the theme of the conference -road asset management - is an important one to all members of PIARC and it was essential for the Association to take part in the discussions held on the shores of Lake Maggiore.
PIARC had sent a high-level delegation over the 4-day conference chaired by Professor Maurizio Crispino: President Claude Van Rooten, Thomas Linder Chair of Committee D.1 (asset management) and Gerardo Flintsch (secretary of Committee D.1.).
Thomas Linder had the honour of addressing the conference for the opening keynote, speaking on the challenges of providing an appropriate road infrastructure now and in the future.
Claude Van Rooten presented a case study on asset management systems, drawing examples from the Association's strategy on asset management. "The upkeep and maintenance of assets, like long-term strategies on resilience and risk assessment, should form the basis of our action", he underlined.
In a second presentation during the closing session, Claude Van Rooten shared some important advance information: the new PIARC online manual on road asset management, which will be part of the Association's range of online manuals will be available from September 2017 at road-asset.piarc.org. The free-to-access website will offer a comprehensive overview of the topic, under four main headings: Management, Planning, Data and modelling and Application. With numerous tools, case studies and hands-on recommendations, the manual reflects PIARC's experience as well as case studies from the UK and the USA among others. It aims to help managers and operators from all countries, at whatever stage of economic development, to deal with the upkeep and management of their road networks.
Taking an active part in the WCPAM is in line with the Association's partnership strategy and follows on logically from the 2015 Pavement Preservation and Recycling Summit (PPRS) and the "Preserve your Country's Roads" brochure published in conjunction with the UK Department for International Development. Further important events are on the horizon, namely the 2018 PPRS conference and SURF 2018, the Symposium on Pavement Surface Characteristics.
---
Find out more: