The new Executive Committee of the World Road Association meets in Abu Dhabi
The newly appointed Executive Committee for the 2017-2020 period met for the first time in the United Arab Emirates. It reviewed progress of the work of the World Road Association (PIARC) over the next four years, as part of the new Strategic Plan, and plans for the 2019 World Road Congress.
Abu Dhabi, 28 February - 1 March 2017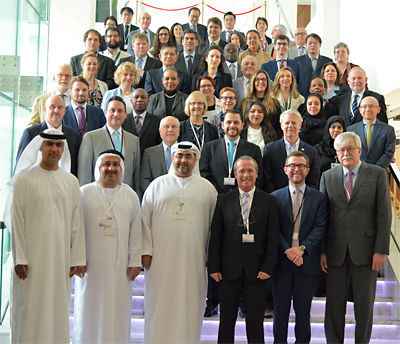 The Executive Committee of the World Road Association (PIARC), the body responsible for administering the Association on delegation from the Council, held its first meeting after its election in September 2016, in Abu Dhabi (United Arab Emirates) from 28 February to 1 March 2017.
The event brought together the 22 members of the Committee and its three Vice-Presidents, the representative of the national committees, as well as the President of PIARC, Claude Van Rooten, the Secretary General of the Association, Patrick Malléjacq, and the coordinators and advisers of the different strategic themes.
This meeting provided an opportunity to discuss the objectives of the Association for the period 2017-2020. It reviewed the activities of the technical committees, followed by a presentation by the Commissions (Finance, Communication, Strategic Plan) which assist the Executive Committee in its work. The Secretary General detailed the overall prospects for the new Strategic Plan of the Association, emphasizing that PIARC aims to remain recognized as the leading institution for guidelines, information and advice on roads and transport in the world.
In this sense, Patrick Malléjacq highlighted the vast technical production of quality reference documents which are widely used in the road and transport sectors, as well as the large number of conferences, seminars and workshops organized regularly around the world, particularly in low- and middle-income countries.
The XXVI World Road Congress will be held in Abu Dhabi in 2019
The participants also confirmed the very dynamic progress of the preparation of the next International Winter Road Congress to be held in Gda?sk, Poland, from 20 to 23 February 2018, as well as the upcoming World Road Congress to be held in Abu Dhabi, United Arab Emirates, from 6 to 10 October 2019. The latter will be a first for the Association in the Gulf region. Discussions have focused on specific issues that will ensure that the 2019 Congress will actively contribute to the expectations of the Emirates.
---
For more information:
---