Final Proceedings of Seoul Congress available for free access online!
The Final Proceedings of the 25th World Road Congress held in Seoul (South Korea) in November 2015 are now available for free of charge.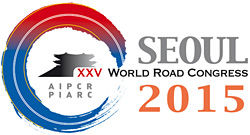 For the first time, the World Road Association makes available the Proceedings of its last World Road Congress in the form of a dedicated website.
The Proceedings contain all papers and speeches made during the Seoul Congress, according to the following four structuring axes:
Management and Performance
Access and Mobility
Safety
Infrastructure
The Seoul Congress Final Proceedings provide a wealth of information intended for all road and road transport practitioners.
In accordance with its mission to share knowledge broadly at international level, the World Road Association (PIARC) has decided to make this dedicated website accessible free of charge.
The Proceedings are available in the three working languages of the Association: English, French and Spanish. In addition, an integrated search engine enables to access all contents.
For off-line consultation, the Seoul Congress Proceedings are available for purchase in DVD format.