New Executive Committee and New President
At its meeting in Lucerne (Switzerland) on 24-25 October, the Council of the World Road Association elected its new President and the New Executive Committee for the 2013-2016 period.
Election of the President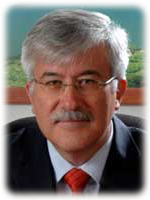 Oscar de Buen Richkarday (Mexico) was elected President of the World Road Association starting from 1st January 2013.
Oscar de Buen Richkarday is a Civil Engineer from the Universidad Nacional Autónoma de México (UNAM) with a Master of Science degree in Transportation from the Massachusetts Institute of Technology (MIT), United States. He spent most of his professional career in the public sector, mainly at the Mexican Secretariat of Communications and Transport (SCT), where he served as Undersecretary of Infrastructure from 2007 to February 2011.
Oscar de Buen Richkarday was Vice-President of the World Road Association from 2009 to 2011.
Election of the New Executive Committee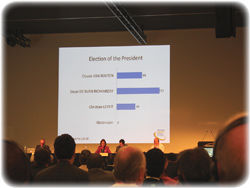 Élection du Président par le Conseil
The Council elected the following members of the Executive Committee:
As Vice-Presidents :
- Menno HENNEVELD (Australia)
- Tchona IDOSSOU (Burkina Faso)
- Friedrich ZOTTER (Austria)
As members :
- Valentin ANTON (Romania)
- Fausto BARAJAS CUMMINGS (Mexico)
- Roy BRANNEN (United Kingdom)
- Mrs. Ping CHENG (People's Republic of China)
- Cheick Oumar DIALLO (Mali)
- Rudolf DIETERLE (Switzerland)
- Terje Moe GUSTAVSEN (Norway/NVF)
- Joseph HAULE (Tanzania)
- Abdul Karim JUDIN (Malaysia)
- Shigeru KIKUKAWA (Japan)
- Nak-Joo KIM (South Korea)
- Josef KUNZ (Germany)
- Mme Lungile MADLALA (South Africa)
- José Miguel ORTEGA (Chile)
- Jeffrey PANIATI (United States)
- Mrs. María del Carmen PICÓN (Spain)
- Christophe SAINTILLAN (France)
- Miguel Ángel SALVIA (Argentina)
- Massimo SCHINTU (Italy)
- Skirmantas SKRINSKAS (Lithuania/BRA)
- Milton TORRES (Ecuador)
- Mrs. Jane WELDON (Canada)
In addition, the National Committees elected Mr. Bojan LEBEN (Slovenia) as their representative on the Executive Committee.
Appointment of the Secretary General
The Council renewed the term of Mr. Jean-François CORTÉ (France) as Secretary General until 2016.