Publication sheet
Non-motorised trips, sustainable yet vulnerable!
Date : 2008

Author(s) : BEROUD Benoît / VAN DEN NOORT Pascal
Domain(s) : Road Policies / Road Safety / Urban Mobility
PIARC Ref. : RR338-034

Number of pages : 10

This article deals solely with non-motorised means of transport (going by foot, cycling, rollerblading, etc) generally known under the terms "slow", "active", "non-polluting" or "green".
This article has been published in the Routes/Roads magazine
N° 338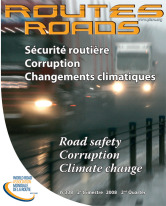 Sécurité routière - Corruption - Changements climatiques
2e trimestre 2008 / Avril