Earthworks Manual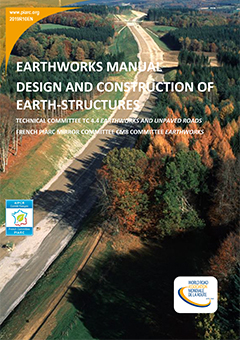 The technical specificity of Earthworks corresponds to the management of many parameters and constraints that have an influence on the progress of the design and construction operations. In particular, the construction of earthworks is confronted with geotechnical and climatic hazards.
General considerations on the content of the Manual
The proposed Earthworks Manual is a collection of rules of the art, good practices,... to enlighten and sensitize readers on Earthworks management, at the design stage of earthworks, the project and the execution of earthworks.
The Manual takes into account the different PIARC technical reports produced in previous cycles by integrating them into the extended data collected in the present cycle.
The earthworks construction process produces earth-structures: cuts, fills or embankments, pavement support structures meeting specifications for stability, deformation, load-bearing capacity, hydraulic or other.
The quality of the works is required, in particular:
To ensure the support of pavement structures in accordance with the planned design
To ensure the durability of earthworks and thus reduce the importance and frequency of maintenance work
The economic and environmental aspects, which are crucial in the construction of road infrastructure, as well as concepts on adaptation to climate change are highlighted.
Design and studies
Geotechnical studies are of major importance to the success of the project, particularly for the following issues:
material identification
optimal reuse of site materials
the stability of the structures
the design of structures
The required quality of earthworks needs recommendations: technical guides, normative systems and standards, technical specifications, feedback from site experiences, test sites, etc. The Manual includes comparisons between the different approaches practiced in various countries around the world, particularly presenting all of the recent European standards dedicated to earthworks (currently under investigation by CEN).
Execution and controls
The Manual also presents the basic concepts on the project and the execution of earthworks:
methods and techniques
material adequacy
various types of controls: material identification, implementation, binders, equipment.
An important part is devoted to the treatment of materials, a technique still under development.
Environmental aspects
A specific chapter is devoted to environmental aspects and proposals for actions to contribute to sustainable development in the field of earthworks.
Information sheet
Date : 2019
Author(s) : Comité technique / Technical Committee / Comité Técnico D.4 Terrassements et routes non revêtues / Earthworks and Unpaved Roads /
Domain(s) : Road Earthworks
PIARC Ref. : 2019R10EN
ISBN : 978-2-84060-520-1
Number of pages : 67