XIVth International Winter Road Congress
Andorra la Vella, 4-7 February 2014
A large success for the XIVth International Winter Road Congress held in the Principality of Andorra, with over 1500 participants to the Congress and 3000 visitors to the Exhibition coming from 48 countries.
The congress was opened on Tuesday February 4th by Andorra's head of government Antoni Marti Petit, the Mayor of Andorra la Vella Rosa Ferrer and PIARC President Oscar de Buen, while the Ministry of Economy and Territories Jordi Alcobé inaugurated the 4500 square meters of the exhibition area.
This marked the beginning of four days of an intense program filled with professional development, cultural experiences and networking.
180 oral presentations and interactive poster sessions, 6 technical visits, 64 exhibitors representing institutions and 100 brands, demonstration of snow removal equipment, provided the latest information on current approaches, de-icing products, equipment and field experience from over 40 countries in road winter operations.
The skills of drivers of snowplough was recognized with the second International Snowplough Competition with participation from about 10 countries.
At the closing ceremony, the Polish Road Administration and the Mayor of Gdańsk, invited the participants to Gdańsk, the host of the XVth International Winter Road Congress in 2018.
Routes / Roads articles of Andorra Congress
Author(s) : PALMITJAVILA David
PIARC Ref. : RR362-018
Date : 2014 - Number of pages : 6
Author(s) : DEL REY Ignacio / GILLES Pierre / GILOPPE Didier / KASHIMA Satoshi
PIARC Ref. : RR362-024
Date : 2014 - Number of pages : 18
General report of the XIVth International Winter Road Congress held in Andorra The general theme of this Congress was "Reconciling road safety and sustainable development in a context of climate change and economic crisis". It reminds us to incorporate all types of highly fluctuating parameters to ensure user safety and smooth traffic flow while addressing sustainable [...] Display the article
Congress Centre of Andorra la Vella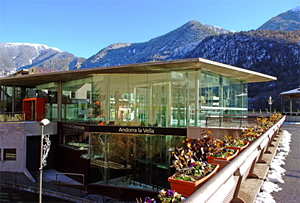 The Congress Centre of Andorra la Vella occupies an area of 4,200 m² arranged in various facilities: an auditorium, five function rooms, a meeting room, a multiuse room, offices, a press room, a covered exhibition area and an outside exhibition area. A 1,200 parking places completes the Congress Centre.
Video Presentation of Andorra for Congress
Proceedings of Congress