XXVIth World Road Congress
6-10 October 2019, Abu Dhabi (United Arab Emirates)
The XXVIth World Road Congress was held in Abu Dhabi, United Arab Emirates, from 6 to 10 October 2019.
Under the theme "Connecting Cultures, Enabling Economies", this Congress confirmed its role as a major event for the road sector worldwide.
Proceedings of Abu Dhabi Congress 2019 available online!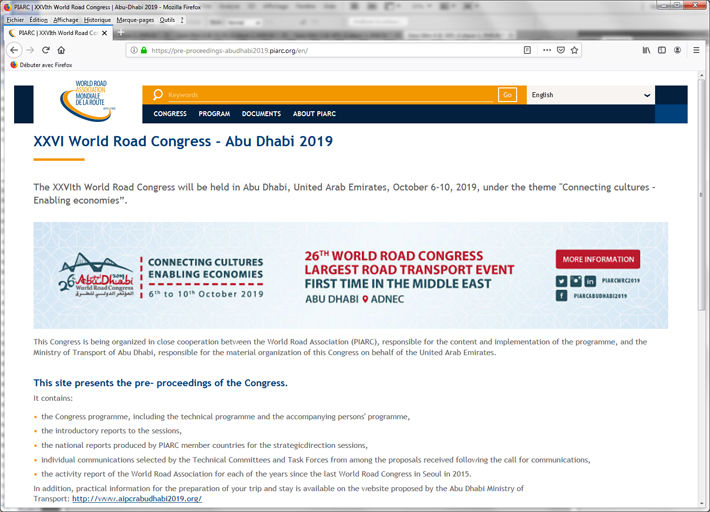 The Abu Dhabi Congress 2019 proceedings are available online.
There you will find:
The general report of the Congress, prepared by GHD under contract with the Ministry of Transport of Abu Dhabi on behalf of the United Arab Emirates,
The Congress programme, including the technical programme and accompanying persons' programme,
The introductory reports and conclusions of the sessions,
Individual papers selected by the Technical Committees and Task Forces from the proposals received to the call for papers,
National reports produced by PIARC member countries for the strategic direction sessions,
PIARC's activity report for each of the years since the last World Road Congress in Seoul in 2015.
To access all the papers presented, you must be a PIARC member or have registered (free, https://piarc.org/en/users.newaccount.htm) and identify yourself here.
---
ABU DHABI 2019
"Connecting Cultures - Enabling Economies"
Abu Dhabi became for five days a leading global exchange forum for road and road transport issues.
The Congress, organized by PIARC and the Abu Dhabi Department of Transportation (DoT), brought together more than 6,000 participants from 144 countries, more than 3,700 delegates and more than 40 ministers and deputy ministers from around the world who shared their views, best policies and practices over five days with 62 sessions, 13 workshops and 6 technical visits.
A look back at the success of the XXVIth World Road Congress which is part of the already long history of World Road Congress, begun in 1908 in Paris.
This PIARC Congress was a unique opportunity to present numerous technical results and best practices in all areas related to road and road transport. It aimed at all stakeholders from around the world, from both the public and private sectors, who can meet to present and discuss new approaches and solutions and share their experiences.
Detailed description of the Congress topics, download the pdf file!
Highlights of the XXVIth PIARC World Road Congress