XVth International Winter Road Congress
Gdańsk, 20-23 February 2018
The XVth International Winter Road Congress was held in Gdańsk, Poland, February 20-23, 2018, under the theme "Providing a safe and sustainable winter road service".
This Congress was organized in close cooperation between PIARC (World Road Association), responsible for the content and implementation of the programme, and GDDKIA (General Directorate for National Road and Motorways), responsible for the material organization of this Congress on behalf of Poland.
Final Congress Proceedings
The Final Proceedings of the XVth International Winter Road Congress are now available, as a dedicated website, at the following address: https://proceedings-gdansk2018.piarc.org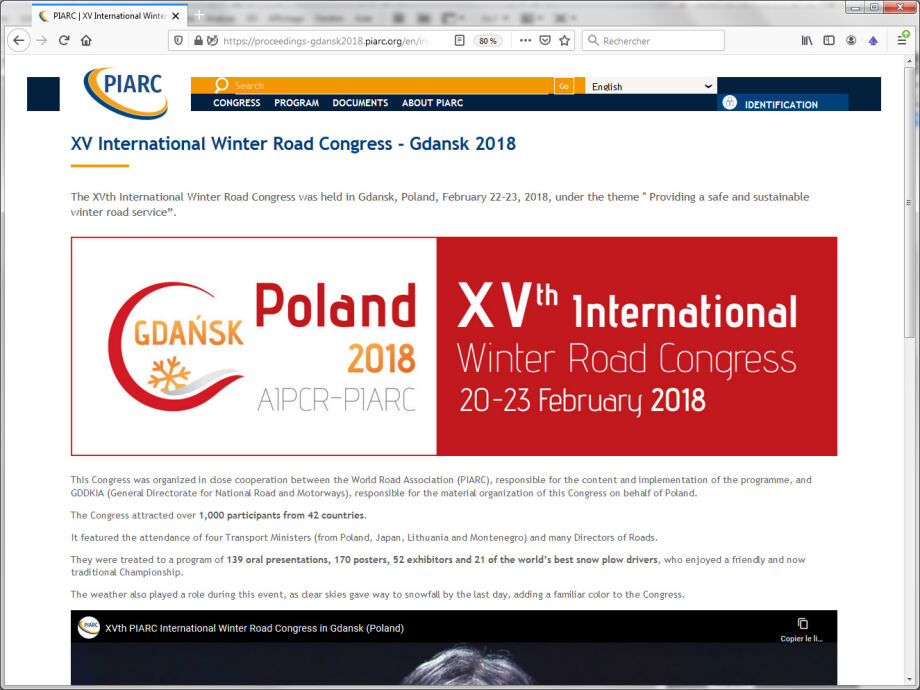 The Congress attracted over 1,000 participants from 42 countries.
It featured the attendance of four Transport Ministers (from Poland, Japan, Lithuania and Montenegro) and many Directors of Roads.
They were treated to a program of 139 oral presentations, 170 posters, 52 exhibitors and 21 of the world's best snow plow drivers, who enjoyed a friendly and now traditional Championship.
The weather also played a role during this event, as clear skies gave way to snowfall by the last day, adding a familiar color to the Congress.
The Final Proceedings present the works of the Congress.
It contains:
the Congress programme, including the technical programme and the accompanying persons' programme,
individual articles selected by the Technical Committees and Task Forces from among the proposals received following the call for papers,
key documents
To access the Final Proceedings of the XVth International Winter Road Congress: https://proceedings-gdansk2018.piarc.org
GDAŃSK 2018
"Providing Safe and Sustainable Winter Road Service"
Success for the XVth PIARC International Winter Road Congress 2018
More than 290 abstracts, written by authors from around the world, were submitted for the XVth PIARC International Winter Road Congress 2018, covering the eight themes proposed.

THE EIGHT TOPICS ARE:
Topic 1. Extreme situations, disasters
Topic 2. Climate change and the environment
Topic 3. Road weather information
Topic 4. Road users and road safety
Topic 5. Winter maintenance management and planning
Topic 6. Equipment and products
Topic 7. Winter service in urban areas
Topic 8. Tunnels and bridges
Detailed description of the Congress topics, download the pdf file.
CONTACT - INFORMATIONS
PIARC (World Road Association)
E-mail: info@piarc.org
---
For the record, Official Congress Bulletins
The two Congress Bulletins are downloadable below:
---
XVth PIARC International Winter Road Congress - Highlights
There is only one such a city as Gdańsk. With unusual location and over thousand years of history, Gdańsk hides a lot of mysteries and has this "something" thanks to which you cannot mistake it for any other: courage, freshness and, in the first place, freedom.

This virtue, most praised for centuries by Gdańsk residents, formed its unique genius loci. You can feel it equally among the tenement houses and among the shipyard cranes, on beautiful sand beaches and in postindustrial areas, parks and tunnels. It inspires and transforms both space and people, making them what they are: brave, involved, passionate and creative.
Not long ago Gdańsk was the centre of events that changed the history of Europe. In August 1980, the strike in the Gdańsk Shipyard led by Lech Wałęsa and the creation of Solidarność, a great social movement, captured the imagination of millions. Precisely these events gave a great impulse to the freedom movements around the world and let people believe that impossible is after all possible.
Today's Gdańsk is a modern, European metropolis, economy based on knowledge, an actively developing centre of culture, science, entertainment and sport, an attractive tourist destination and the world capital of amber.
In this northern, maritime Poland winters are generally mild and wet, with considerable snowfall. Here, more often than anywhere else, snowploughs need to go on roads but temperatures more often circulate around zero.
An important crossing between Western Europe, Russia, the Balkans and the Baltic Sea, Poland recorded an unprecedented qualitative and quantitative 150 percent leap in its highways network (1,500 km) in the past five years, and another 1,800 km is expected by 2020. Simultaneously, road accidents decreased over this period by about 25% and fatalities fell by 37%.
Through the "Maintain the standard" scheme, the maintenance of these new roads is entrusted to private companies, in charge of permanently maintaining a specific level of service, including snow clearing, minor surface repairs, road signs, traffic barriers, etc. whereas the General Directorate for National Roads and Motorways (GDDKiA) cares only for major repairs.
GDDKiA and the City of Gdańsk, one of the oldest Polish coastal city, will be proud to welcome, from 20 to 23 February 2018, all delegates, scholars, experts and exhibitors form all other the world to discuss the latest achievements in winter maintenance.