Register for the 7th Regional Conference for Africa, and for PIARC International Seminar!
2 August 2022
Join us in South Africa, from 18 to 20 October 2022!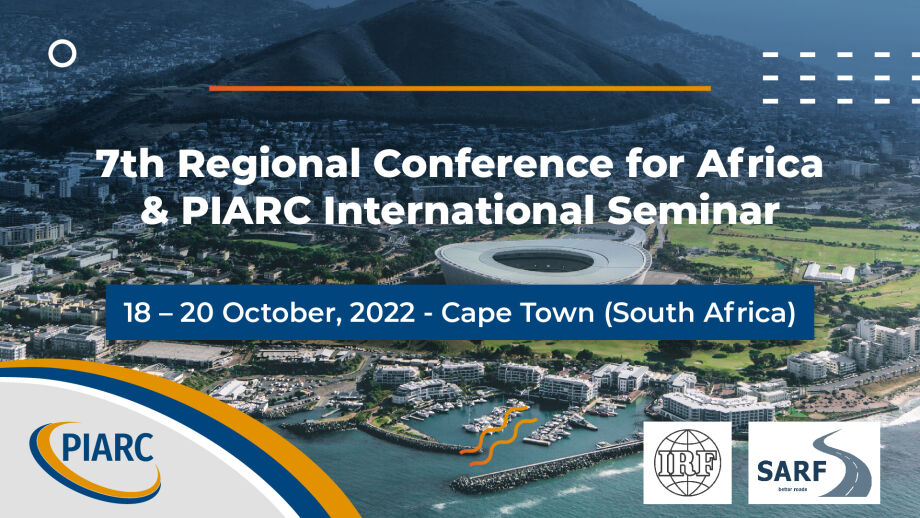 SARF (South African Roads Federation), IRF (International Road Federation) and PIARC are implementing the 7th Regional Conference for Africa, and PIARC is organising an International Seminar on Rural Roads and Road Safety. These two events will take place from 18 to 20 October 2022 in Cape Town, South Africa.
Under the theme "Connecting Africa through Smart, Safe and Resilient Roads: Stimulating Growth and Trade on the Continent", the conference will gather road specialists in order to examine and discuss ways to improve our road networks, particularly in Africa.
In parallel, the seminar organised by PIARC will address the challenges of safe and efficient road transport and the role of low traffic roads in rural connectivity.
More broadly, it will be an opportunity to present all the Association's activities in this very dynamic region, including the next World Road Congress to be held in Prague (Czech Republic) in October 2023.
Practical information:
Date: October 18-20, 2022
Venue: Cape Town International Convention Center (South Africa)
---
Further information: