Routes/Roads
Routes/Roads is an informational magazine. The articles present analysis, summaries, recommendations or states of practice in a country covering subjects of topical interest in the theme of roads and road transport.
Consultation and download the latest issue of Routes/Roads are reserved for members of the Association and subscribers to the magazine.
Click the orange tab "MY ACCOUNT" to log-in before downloading or the button below "I subscribe".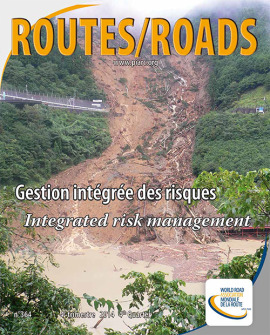 N° 364
Integrated risk management
4th quarter 2014 / October
Contents of the magazine Routes/Roads N° 364
What's new?
Calendar
What's new? Vienna - Technical Report on the Importance of Road Maintenance - Appointments - Welcome
Update: Seoul Congress - e-Routes/Roads
Post-workshop of the Association: United Kingdom - Italy
Forum for National Committees of the World Road Association - Ecuador
Spotlight on young professionals: Matías Valenzuela Saavedra (Chile)
I subscribe
Log in before downloading documents!
100 pages, bilingual French-English, distribution: 5,200 copies towards 142 countries.
PIARC President: Oscar de Buen Richkarday (Mexico)
Director of Publication: Jean-François Corté
Editor: Robin Sébille
Art direction: Céline Le Graciet
Publishing Assistant: Cécile Jeanne
Translations: Marie Pastol (PIARC), Isabelle Couté-Rodriguez, Robert Sachs
Printing: IMB (France) ; Diffusion: GIS (France)
Price of a single copy: 20 €
Subscription (4 issues a year): 60 €
ISSN : 0004-556 X
Authors may or may not be members of the Association (How to submit). Articles are subject to peer review, with technical committees of PIARC or outside experts to decide on publication. Information on the life of the Association completes the magazine.
Find below, the comprehensive issues of Routes/Roads in electronic format from issue 321 of January 2004 on XXIInd World Road Congress in Durban (South Africa).
The features can already be downloaded from PIARC Virtual Library.
Issues published in 2014

N° 363
3rd quarter 2014 / July
REAAA Special Issue - Road Engineering Association of Asia and Australasia

N° 362
2nd quarter 2014 / April
General Report of the Winter Road Congress and Rural Roads
Issues published in 2013

N° 360
4th quarter 2013 / October
Road safety: time for action

N° 359
3rd quarter 2013 / July
Road safety
Issues published in 2012

N° 356
4th Quarter 2012 / October
New developments in the evaluation of road projects

N° 355
3rd Quarter 2012 / July
Science and Roads, the next generation of roads

N° 354
2nd Quarter 2012 / April
Urban Mobility

N° 352-353
1st Quarter 2012 / January
24th World Road Congress
Issues published in 2011

N° 351
3rd Quarter 2011 / July
Special issue - Intelligent Transport Systems

N° 350
2nd Quarter 2011 / April
Road tunnels: safety and operations - Monitoring of large bridges - Half-warm mix asphalts
Issues published in 2010

N° 348
4th Quarter 2010 / October
Tree-lined avenues - Intelligent Transport Systems

N° 347
3rd Quarter 2010 / July
Road safety - Tolling in Central Europe
Issues published in 2009

N° 344
4th Quarter 2009 / October
Roads and wildlife preservation - Risk perception - HDM-4

N° 343
3rd Quarter 2009 / July
REAAA Special issue - Managing road assets for community outcomes
Issues published in 2008

N° 340
4th Quarter 2008 / October
Road-Vehicle Interaction - Tourist Roads in Norway - Road Tunnels

N° 339
3rd Quarter 2008 / July
Road network maintenance issues in Latin America countries


N° 338
2nd Quarter 2008 / April
Road safety - Corruption - Climate change
Issues published in 2007

N° 335
3rd Quarter 2007 / July
2007 Paris Congress - It's coming soon

N° 334
2nd Quarter 2007 / April
Customer Orientation - Urban Pavements - PIARC Test Tyres

N° 333
1st Quarter 2007 / January
Sub-Saharan Africa - Status report following 15 years of institutional reforms
Issues published in 2006

N° 332
4th Quarter 2006 / October
New infrasctructures: innovative aspects of financing

N° 331
3rd Quarter 2006 / July
Report of the International Winter Maintenance Congress - Road Administrations: Organization and structure
Issues published in 2005

N° 328
4th Quarter 2005 / October
Special issue - Intelligent Transport Systems

N° 327
3rd Quarter 2005 / July
Road pricing - PPP in Spain - Logistical Platforms - Terminology
Issues published in 2004

N° 324
4th Quarter 2004 / October
Special issue: Tunnels

N° 323
3rd Quarter 2004 / July
Road Safety in Portugal
New
e-Routes/Roads
Your magazine in digital version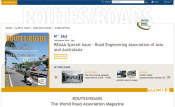 Subscription to Routes/Roads
2014 Fees:
- The price of an annual subscription (four issues) is 60 €.
- The price of a single issue is 20 €. Postage is included.
Submit an article for Routes/Roads
To submit an article for Routes/Roads: