World Road Congresses
Since the first World Road Congress held in Paris in 1908, PIARC organises every four years in a member country a World Road Congress with the aim to share techniques and experiences worldwide in the field of road infrastructures and road transport.
Last Congress
Seoul, 2-6 November 2015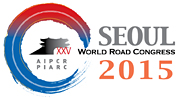 This XXVth World Road Congress was organized in close cooperation between the World Road Association, responsible for the content and development of the programme, the Ministry of Land, Infrastructure and Transport of the Republic of Korea, the Korea Expressway Corporation, the Korea Road & Transportation Association and the PIARC Korean National Committee.
Mexico Congress

The XXIVth World Road Congress has been organized in Mexico City (Mexico) from 26 to 30 September 2011.
DVD of Mexico City Congress is avalaible: order it
To download documents or receive the newsletter of the World Road Association, you first have to login.
Pages with orange tabs are reserved for the members of the Association.
You have an account
Type your login and password:
When you access your account, you can modify your login and/or password for future sessions.
Please check and keep your personal data updated.
You don't have an account yet
Opening an account is entirely free of charge and non-binding. The data will not be disclosed to third parties and it will not be available for commercial use.
More information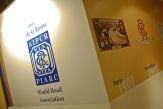 © Cédric Helsly / Olivier Gombert